About TVs
The size of the display is crucial
These are the current TV trends: Internet-enabled and curved
The perfect picture quality on flat screen TVs
TV RECEPTION: DVB-T, DVB-S, DVB-C OR IPTV?
TV features: More than just television
Perfect accessories for your special television experience
Televisions have become a lifestyle object since they become ever bigger, flatter and more sophisticated in their technology. Not only the regular TV program, but also films and videos from the Internet can be viewed with modern televisions. Streaming from mobile device to TV is convenient and flexible. Surfing the web and selecting a movie from video-on-demand providers like Netflix, Amazon Prime and others works directly on the TV because it's "smart", which means it's Internet-enabled. In general, films and series can be viewed in impressive quality at home. Precisely because the modern technologies offer so many possibilities, televisions develop into sophisticated, well-designed and powerful home theater systems.
The size of the display is crucial
TV sizes are usually in inches. This refers to the screen diagonal. Due to the size of the room in which the TV is supposed to be located, the choice of the suitable display size is usually the first challenge. A clue is the distance between the seat and the TV. The table below provides an extract of the customs specifications and the conversion into centimeters and the seat spacing:
| | | | |
| --- | --- | --- | --- |
| Screen diagonal in inches | Screen diagonal in cm | Minimum distance to TV (Full HD) | Minimum distance to TV (Ultra HD) |
| 40 inches | 101.60 cm | 1.59 m | 0.79 m |
| 46 inches | 116.84 cm | 1.82 m | 0.91 m |
| 47 inches | 119.38 cm | 1.86 m | 0.93 m |
| 50 inches | 127.00 cm | 1.96 m | 0.99 m |
| 55 inches | 139.70 cm | 2.18 m | 1.09 m |
| 60 inches | 152.40 cm | 2.38 m | 1.19 m |
| 65 inches | 165.10 cm | 2.58 m | 1.29 m |
Our practical tip: Stable wall mounting
Mounting is important for large TVs. If you want to mount the TV on the wall, you should first check whether it is sufficiently strong – straight sandstone walls or thin partitions are usually not suitable for this purpose. In addition, a special wall bracket is often required for 40-inch units, which is usually not included in the delivery.
These are the current TV trends: Internet-enabled and curved
With the rapid technical and design development of televisions, clear trends have already developed, the aim of which is usually to create a real cinema experience at home. The current TVs have Internet access and promise an extended field of view with better spatial and plastic perception through their curved displays.
Internet-enabled smart TV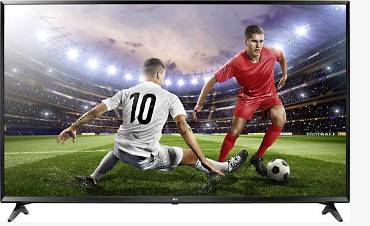 Connected via LAN or WLAN with the Internet, smart TVs allow you to watch films and videos online, listen to music and surf without additional device. Some smart TVs use software platforms such as Android TV or specially developed operating systems for this purpose. Depending on the operating system, SmartTVs can access media libraries (e.g. TV channels, sky, Netflix, Watchever, Spotify, etc.) using apps and thus play movies, series, documentaries and music from the Internet.
Even without an Internet interface, you can use SmartTVs to take advantage of the Internet by using, for example, a streaming stick or so-called set-top boxes such as AppleTV, which record the signal from your mobile device and pass it on to the TV.
By the way: A TV with WLAN is often more convenient because it does not need to be placed near the LAN connection.
Good quality football: No problem with modern TVs.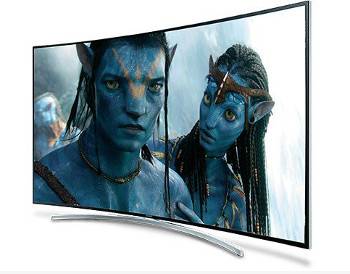 Curved TV
In contrast to classic flat screens, the displays of curved TVs are curved (concave). This solves the known problem that sideways viewers see worse.
Even for viewers sitting at the optimum angle to the TV, the curved surface should expand the field of view, because the distance of the viewer to the outer pixels is as great as to the central pixels. This minimizes color and contrast losses.
In addition, objects are to be perceived more in a more plastic way, the viewer is "drawn in" into the image – a great advantage especially with large screen sizes.
Curved TVs promise high picture quality from every angle.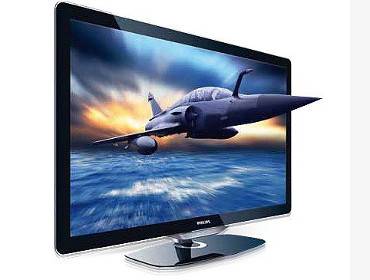 3D-TV: (Yet) not suitable for the mass
3D experiences that are close to the skin, which convey the feeling that you are in the middle of the events. But real 3D films, e.g. from 3D Blu-Rays or in the television program of Pay TV providers like sky, are currently only seen with 3D glasses.
However, it is now becoming apparent that 3D-enabled TVs could not be established in the living rooms at home, while 3D films are very popular in the cinema. Perhaps these TVs will be making a comeback in the future with advanced technology.
In the living room, 3D TVs could not yet prevail.
The perfect picture quality on flat screen TVs
Nothing is more crucial to choosing a TV than the picture. It should be pin-sharp, high-resolution, color intensive and rich in contrast – in short: Perfect, even under unfavorable light conditions or particularly large screen sizes. The display technology essentially determines the quality of the picture and the resolution, which provides for a clear, sharp picture.
LCD-TV
Televisions with LCD screens (too German: Liquid crystal screen) have become rare. Their advantage has long been their relative energy efficiency and high brightness, but LCD has now been replaced by LED and OLED technology.
LED TV
TVs with LEDs are currently the standard. In LE displays, tiny light emitting diodes are used either only for the background lighting of conventional liquid crystal screens (LED backlight or LED backlight) or for the image generation itself Thanks to the long-lasting, reliable LEDs, a flatter design of televisions was first possible. Moreover, LEDs are color intensive and emit a lot of light, are comparatively energy efficient and reduce the switching times during switching on, off and switching.
OLED TV
At present, TVs with OLED technology are rare due to the high manufacturing costs and limited durability of the diodes, but probably a real alternative to LEDs soon. Organic light emitting diodes are integrated in OLEDs, which are even more energy-saving. They emit light themselves, offer a high contrast and even faster switching times. They are also perfectly suitable for curved displays due to their design. OLED TVs usually have a better energy-saving class than comparable LED devices.
AMOLED is also an alternative name for OLED – the same in terms of construction, Samsung sells its OLED technology under this brand name.
QLED TV
While OLED technology uses organic light emitting diodes themselves, QLED uses LED light to illuminate small particles called quantum dots. They get into vibration and produce the television picture. They create not only rich black, but also bright colors and provide excellent contrast.
This powerful brightness and a much wider color range than LED TVs are also called HDR (High Dynamic Range) technology.
Display resolutions
The resolution of a TV determines how sharp and intense the picture is, regardless of the display technology. The resolution is specified in pixel dimensions. The current standard resolution of good TVs is HD-ready at 1366 x 768 px. Full HD, also referred to simply as "HD" in colloquial language, is called 1920 x 1080 px. The currently highest possible resolution UHD (Ultra High Definition, also known as 4k) is at 3840 x 2160 px four times the HD resolution.
The higher the resolution, the better the picture is usually perceived. But the correspondingly higher price is not always profitable. The very high UHD resolution is recommended, for example, for TVs with a large screen size or with a larger seating distance. With smaller TVs and a small distance between the viewer and the TV, FullHD is completely sufficient.
TV RECEPTION: DVB-T, DVB-S, DVB-C OR IPTV?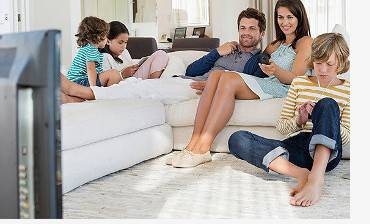 If the quality of the TV is right, you need one more: Reception. Depending on this, you can receive a different number of channels of different quality. Because often channels in HD or certain private channels are only available at an additional cost. Each type of reception needs its own connection. Current TV models often provide all four connections. If this is not the case, there are appropriate cables and receivers that can help.
The following types of reception can be distinguished from TV channels:
DVB-S
One of the most popular variants is television by satellite dish. First of all, it is important that the bowl can receive the satellite signals without obstacles. Once the installation costs of the satellite system and the associated acquisition costs have been overcome, you can watch a large number of TV channels without any ongoing costs. Of course, pay-TV like sky and the majority of HD programs are excluded. However, it is possible to order these for a fee.
DVB-C
In addition to satellite television, cable television is also often found in German households. The connection fee is often already included in the additional costs of rented apartments. In addition, a contract must be concluded with a cable provider, such as Telekom, Unity Media or Vodafone. Depending on the scope of this contract, you will receive a CI+ module and receive a certain number of TV channels, some of which are in HD quality. To watch private channels in HD or pay TV like sky, there are additional packages available to book.
DVB-T2
The free DVB-T antenna TV was switched off in 2017 and replaced by DVB-T2. This is intended to improve the quality of television. Transmitters can therefore be received in HD instead of SD (standard definition), there should be about 40 transmitters on the whole. However, it now also costs a small annual fee. Instead of antennas, you also need a DVB-T2 receiver.
IPTV: Internet TV
In addition to streaming TV from certain providers such as Netflix or Amazon Prime, IPTV is another possibility of Internet TV. The prerequisite is a contract with an Internet provider at a minimum speed of 16Mbit/s and a corresponding receiver. With IPTV, the customer can enjoy additional features, such as Timeshift, in addition to the channels. Films can be recorded and paused in this way.
TV features: More than just television
Not only the size, resolution and reception of a TV are decisive criteria for a purchase, but also features that are tailored to specific requirements.
Ports and slots
If you want to expand your TV with additional devices such as data carriers, streaming sticks, set-top boxes, media receivers or sound systems, you have a great deal of importance on the connections and slots on the TV.
Several HDMI and USB ports are now standard equipment – with them USB sticks and streaming sticks can be used and, for example, game consoles, computers or mobile devices can be connected.
CI+, on the other hand, is a DVB interface for CI modules, usually SmartCards, via which among other things Pay-TV, encrypted programs and HD channels can be obtained.
To connect a sound system to the TV, cinch connections are helpful. With the matching RCA cables (always two cables with specified assignments – the white cable for the left channel, the red cable for the right channel) the music system and separate boxes can be connected. In addition, video can also be transmitted via the cinch connection.
Integrated recording and playback functions
Some TVs have a built-in recording function that is independant of an external media receiver. If you would like to record TV programs more frequently and watch them at a later time, this function is useful. Keep in mind, however, that many broadcasters also make their programs available online in a library.
There are also TV sets with an integrated DVD player. If you already have a DVD collection, this is a convenient solution, as no separate DVD player is required. However, Blu-Rays are of higher quality and cannot be played by ordinary DVD players. Special Blu-ray players are required for this.
Perfect accessories for your special television experience
A wide range of accessories are available to match your TV:
Soundbars
Samsung sound
Sony sound
LG sound bars
Bluetooth sound bars
JBL sound bars
Remote Controls
Samsung remote controls
Universal remote controls
LG remote controls
One For All remote controls
Philips remote controls
Players & Receivers
Panasonic Blu-ray
Sony Blu-ray player
3D Blu-ray player
SAT receiver with hard disk
HD SATELLITE receiver
TV wall brackets
Swiveling TV wall holder
TV stands
TV ceiling mounts
TV wall brackets by Hama
55" TV wall mount
(This text is machine translated.)
About TVs The size of the display is crucial These are the current TV trends: Internet-enabled and curved The perfect picture quality on flat screen TVs TV RECEPTION: DVB-T, DVB-S, DVB-C OR IPTV? TV features: More than just television Perfect...