This text is machine translated.
What types and types of tweeters are there?

Purchase criteria for tweeters – what is it all about?

Conclusion: This is how you buy the right tweeter

FAQ – Frequently asked questions about tweeters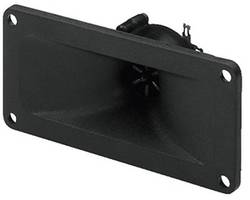 What was a tweeter?
Tweeters are loudspeakers that convert electrical signals into mechanical vibrations and thus produce sound. Unlike low and mid range speakers, they are specially optimized for high frequency playback. The higher the tone and thus the frequency, the less air must be moved by the loudspeaker membrane in order to achieve the same volume. Tweeter loudspeakers therefore generally have a rather small design, as large and heavy diaphragms would be too slow to reproduce sounds in higher frequency ranges. Conversely, tweeters are not able to reproduce low frequencies, so they are practically always used in combination with other speakers.
What types and types of tweeters are there?
The calotte tweeters, also called tweeter calotte, may be described as the most common design. Like common low and mid-range speakers, they have a membrane as a sound-emitting element. This is moved by a voice coil, which is immersed in a ring-shaped gap of a permanent magnet. The diaphragm and the immersion coil are centered by a circumferential bead, which permits only axial movements of the diaphragm. This mode of operation is referred to as a diving coil loudspeaker.
Tweeter horns operate in the same way. In order to improve the acoustic efficiency and for sound control, a sound-conducting construction, the so-called horn, is located in front of the actual loudspeaker membrane.
Piezo tweeters do not have an electromagnetic drive like diving coil speakers, but instead use the piezoelectric effect to vibration a membrane. They are also available as horn loudspeakers.
Ribbon tweeters use a thin aluminum foil as a membrane located in the stator field of permanent magnets. The film itself is passed through the signal in longitudinal direction and the magnetic field induced by the current flow causes the film to oscillate. In the transmitted sense, the diaphragm is also the voice coil at the same time. However, due to the extremely low impedance of the metal band, direct operation on an amplifier is not possible, so ribbon tweeters always have a transformer integrated into their housing for impedance matching.
Purchase criteria for tweeters – what is it all about?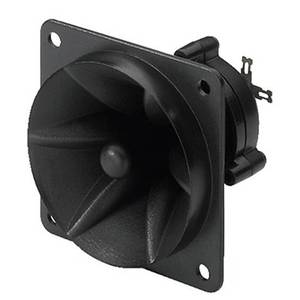 Normally, tweeters are installed in loudspeakers together with other loudspeakers. For new designs, there are generally appropriate recommendations in the construction manual, which determine which speaker chassis are suitable for each. If a defective tweeter has to be replaced, make sure that not only the design and the installation dimension are compatible, but that the electrical and acoustic values are as close as possible to the original. If there are several speakers, all tweeters should be replaced at the same time to obtain a homogeneous sound.
If you create a selection of loudspeaker chassis yourself, the individual data sheets provide detailed information about the technical data such as impedance, load capacity and frequency response. In this case, it is up to the designer to make a technically meaningful selection. A wide range of specialist literature is available on the market, as well as calculation programs for loudspeaker construction.
If tweeters are used in public areas that can be reached by the public, it is advisable to select a model whose dome is protected from contact to avoid damage. Alternatively, a suitable protective grid can be mounted.
Conclusion: This is how you buy the right tweeter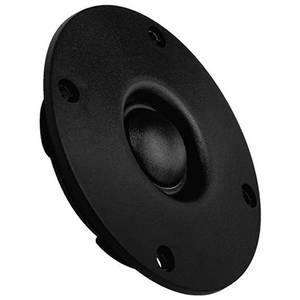 Do not let the maximum frequency response dazzle you. Particularly high values, such as 40 kHz, are impressive, but should not be overestimated in practice. Even a young person is not able to perceive frequencies above 20 kHz – as the age of the age increases, the audible maximum frequency decreases. A linear frequency response and good radiation characteristics are much more important than these limit values.
Make sure that all components are properly assembled: It makes little sense, for example, to combine a very inexpensive piezo tweeter with high-priced other speakers. Conversely, an expensive and high-quality ribbon tweeter does not make a high-end loudspeaker system from a rather mediocre loudspeaker box.
In general, calotte tweeters and ribbon tweeters are more suitable for the HiFi-area, while tweeter horns offer themselves through their better efficiency and the bundled radiation characteristics for applications in the PA, musician and disco-corner area.
In outdoor areas and in humid environments, the appropriate resistance to moisture must be observed. When installing in devices that use cathode ray tubes for image generation, magnetically shielded tweeters must be used. Otherwise, your magnetic field will cause color distortion and image distortion. The same applies for installation in center speakers of multi-channel systems and in combination with older, conventional TV sets with picture tubes or CRT rear projectors. Modern flat screens with Plasma-, LCD- or LED-technology are without any problem.
FAQ – Frequently asked questions about tweeters
What impedance should the tweeter have?
Common impedances are 4 and 8 ohms. When reintegrating a tweeter into a loudspeaker system, the same impedance should be used for all loudspeaker chassis. This also applies if a defective tweeter has to be replaced.
The dome of my tweeter has been mechanically damaged, how can ich prevent this in the future?
In the Conrad online shop you will find easy to install loudspeaker protective grillee for all common speaker dimensions. They reliably prevent accidental or intentional damage.
Do ich absolutely need a crossover filter, or can the tweeter be connected directly?
All loudspeakers should be supplied with only the frequency ranges for which they are designed. A direct connection can not only lead to damage, but is also extremely detrimental to the sound. Piezo tweeters are an exception: Their impedance increases strongly at low frequencies, so that they are decoupled even without a crossover filter. Nevertheless, it may make sound-technical sense to operate piezo tweeters with a suitable pre-circuit.
This text is machine translated.     About tweeters What was a tweeter? What types and types of tweeters are there? Purchase criteria for tweeters – what is it all about? Conclusion: This is how you buy the righ...