This text is machine translated.
All you need to know about twilight switches
What are twilight switches?

How do twilight switches work?

Where are twilight switches particularly suitable?
What must be observed during installation?

What to consider when purchasing?
What are twilight switches?
Twilight switches are electrical components that open and close a circuit independantly . The respective status depends on the ambient brightness, which is measured by the twilight switch using a photo transistor or photodiode. If the brightness falls below a certain limit, the switch closes the circuit and downstream components are supplied with power. In comparison to pure time switches, twilight switches react to brightness and not to times or timers thanks to their light sensor. Especially in the outdoor area, a twilight switch has many advantages over time switches, since it can be used independant of the season. This automatically adjusts the outdoor lighting to the twilight times, while the timer must be continuously reprogramd.
How do twilight switches work?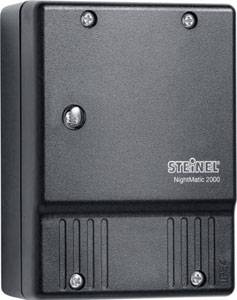 Twilight switches have a built-in light sensor that measures the ambient brightness . This is referred to as Lux. The sensitivity of the sensor can be adjusted with some switches. In this way, it is possible to individually determine in which light conditions the circuit is closed and, for example, to supply lamps or halogen lamps with power.
In addition, many twilight switches have a timer that determines when the circuit is to be reopened. Thus there is even greater flexibility, since the lights are switched off not only at dawn, but for example after two hours of darkness. This reduces the power consumption and reduces the light load of the environment .
It is also important that most twilight switches operate with a so-called switching delay. It is particularly helpful to compensate for short-term light influences on the switch. The switching delay prevents the contact switch from being triggered, for example, by the light beams of car headlights or sudden, dark shadows.
It is often possible to control several lights with a single twilight switch without any problems . However, it is essential to ensure that the permissible switching capacity of the switch is not exceeded. wird. Otherwise, there is a risk of a short circuit or a defect in the device.
Where are twilight switches particularly suitable?
Twilight switches can be used in many ways. You are particularly often used in outdoor lighting. They can light house facades or lettering, for example, which would otherwise not be visible in the dark. Their use is also particularly suitable for illuminating outdoor advertising such as posters or banners. Decorative lighting, as often used during Christmas, can also be controlled by the switches.
Twilight switches can also be used indoors. For example, shop windows are illuminated overnight or business premises are provided with minimal lighting. So-called built-in twilight switches are suitable for this, which are installed subsequently, i.e. after the first electrical installation.
Temporary solutions offer twilight switches that are connected to the socket. You switch between the socket and the lamp or other lighting to control it depending on the ambient brightness.
There are many other possible applications, which also result from the combination with the integrated time switch. If outdoor elements are to be illuminated only in the evening hours, for example, twilight switches with a timer can be set so that they simply switch off after the desired time and thus the rest of the night are not active.
What must be observed during installation?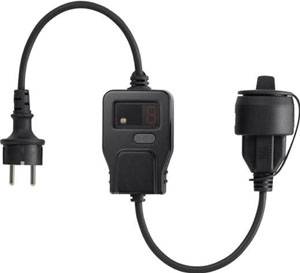 The installation of permanently installed twilight switches should be carried out by an electrician. Since this is used with voltages of up to 230 volts, there is a serious risk of injury in case of improper handling. Therefore, always observe the enclosed operating instructions and consult a specialist in the event of uncertainties or problems.
It must always be noted that the twilight switch is installed outside the area to be illuminated. wird. Otherwise, it could activate or deactivate itself . For example, switches with integrated switching delay would turn on and off continuously after the set delay interval.
The switching delay can also help to prevent the light system from switching on and off continuously. The photo sensors of the switches are very sensitive and react, for example, even in dark shadows or in the light of a passing car. To prevent the sensor from triggering the contact switch every time a sudden change in ambient brightness occurs, the integrated switching delay sets a minimum time after which the contact switch reacts. A delay interval of just a few minutes can prevent the circuit from being closed and opened continuously.
What to consider when purchasing?
When purchasing twilight switches, make sure that they meet your requirements. Not all switches have timers or switch delays. You can find out which elements are installed in the switches in the respective product description.
As an electrical component, twilight switches also have a limit load which should not be exceeded under any circumstances. For easier comparability and classification, you will find the power specifications for different application areas of the respective twilight switch. Incandescent lamps have a different switching capacity than energy saving lamps, for example.
The degree of protection of the twilight switch indicates against which external environmental influences the devices are protected. This is an international standard, which is specified by all manufacturers. For example, components with the IP44 degree of protection have special protection against solid bodies with a diameter from 1 millimeter and an all-round spray protection. They are therefore ideally suited for outdoor use.
If a switching time clock and a switching delay are installed, you will find the information on their respective specifications in the technical data. Time switches usually provide an interval of one hour to ten hours.
Tip: Switching delays can also be fixed to a certain time and cannot be adjusted. Therefore, make sure that the switching delay corresponds to your wishes.
Twilight switches are the better alternative to pure time switches when it comes to lighting systems. They are robust and reliable and can therefore be used outdoors without any problem. However, the installation can be more complicated depending on the circuit in which the switch is to be installed. Therefore, installation by a specialist is advisable. All in all, it is an ideal component for intelligently controlling lighting systems, while also being environmentally conscious and energy-saving.
 This text is machine translated.     All you need to know about twilight switches What are twilight switches? How do twilight switches work? Where are twilight switches particularly suitable? ...