This text is machine translated.
About Audio & USB Digitizing Devices
Digitize records and cassettes - no problem with digitization devices

Store cassette music in better quality

Use the digitizer as a playback device

Buy an audio digitizer - be sure to buy it

Our practical tip: Prepare cassettes

FAQ - Frequently Asked Questions about Digitization Devices
Digitizing records and cassettes is no problem with digitization devices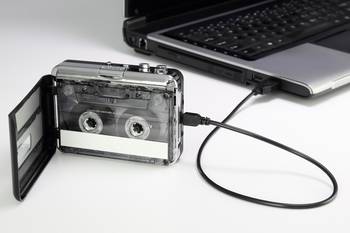 Records are again announced: Many current music albums are pressed onto records; many young people create a record player and discover true musical treasures in the attic of their parents and grandparents. Cassettes and cassette recorders are also found in many households, and some of those who grew up with these recordings do not want to miss out on favorite music, specially recorded playlists or audio plays. Although music cassettes are considered robust, they are not durable for an unlimited period of time, it is therefore advisable to digitize cassettes in good time. This is done by so-called digitizers, which combine two functions in one device: They are used to transfer the sound signals of a cassette to an external hard disk of a PC and can in most cases be used simultaneously as a playback device.
How does a device for digitizing audio cassettes or vinyl actually work? Digitization devices are basically cassette recorders or record players equipped with a USB connection. The digitizer is connected to the PC via USB. However, on a tape, the analogue signals are not in binary code, so they must be converted. Most audio digitization devices store the audio signals in MP3 format, and some also support WAV. MP3 files offer a decisive advantage: It is a compressed version of the original sound signals. Individual, superfluous components of the tone, which are hardly noticeable to humans, are not stored. MP3 files therefore take up little space and are ideal for playing back via playback devices and smartphones, directly on the computer or even via the Smart TV or for burning onto a CD. What was working with tapes was also possible with records. For this, you need a record player that is equipped with USB and designed as a digitization device. With the help of such a record player, you can transfer audio plays and music pieces into the digital age.
USB cassette encoder for digitizing audio cassettes
Store cassette music in better quality
Cassette life is approximately 30 to 40 years, not only the quality of the tape material but also the storage of the cassettes. One reason for the limited service life is, among other things, the softeners that are processed, which can evaporate over time and glue parts. Solar radiation and temperature fluctuations are also harmful to the belt material.
With the cassette player the cassettes can be heard and digitized
A digital file, on the other hand, can be preserved indefinitely. There is no wear, as is the case with music cassettes or to a lesser extent with records. Those who used the audio tape in the late 70er and 80er at the heyday of the audio cassettes often remember the problem with wound magnetic tapes, the so-called "tape salad". Drop-outs, which are small sound dropouts or volume fluctuations, occur after frequent playback or improper storage of a music cassette and disturb the listening experience.
Although well-maintained and properly stored records can last forever – heat, sunlight, fine dust particles and continuous playback on a record player can still lead to damage. The result: The sound quality suffers as well as audio cassettes. So that you can enjoy your favorite music of old days in the future, let it be converted by a digitization device.
A software CD is included with some digitization devices. Depending on the software, you can not only digitize the contents of your music cassettes, but also edit them. The files stored on the hard disk can be improved with various tools, for example by eliminating or reducing noise such as noise or crackling. Media in MP3 format can be easily adjusted: They can be cut, expanded or polished with effects in just a few clicks.
Use cassette digitizer as a playback device
If you do not want to separate yourself from your old cassettes even after digitalisation, you can use the playback function of the audio digitization device. Many models have a headphone output and are sometimes even supplied with headphones. You can use these devices as portable cassette players, keyword "Walkman". Because the devices are usually not much larger than a conventional cassette, they are ideal for traveling.
Buy an audio digitizer - be sure to buy it
Before purchasing a cassette digitizer, check that the device provides all the features that are important to you.
File format
Digitization devices convert audio content from tapes or records into MP3 format, some also support WAV. The latter is especially useful if you want to edit your music afterwards. In most cases, however, conversion to MP3 is sufficient.
Listen to cassettes on the move
Make sure that the digitizer can also be used as a portable cassette recorder if you want to play audio cassettes while on the move. Important: A headphone output and the power supply with batteries.
software
You want to be able to edit your music at any time and then transfer it to your MP3 player, smartphone or CD in the best possible quality? Many devices are supplied with a CD with a digitizing software. Alternatively, you can order a software separately or use a free program to edit your music files.
Power Supply
With most digitization devices, power is supplied via USB port or batteries. While a USB charging cable is almost standard, batteries often need to be purchased separately.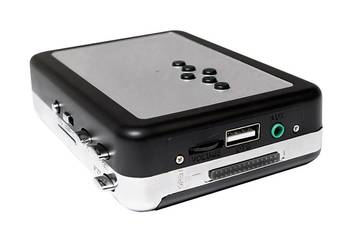 Digitizer with USB slot for digitizing without a PC
Other features include
If devices, for example, have a slot for USB sticks or a card reader, you can digitize cassettes without using a PC. Some models are also equipped with a microphone and allow you to record spoken or sung.
Our practical tip: Prepare audio cassettes for digitization
Before digitizing, it's a good idea to take a closer look at the tape. If the material is intact, rewind the cassette once to ensure smooth playback. If the tape is torn, you can repair your favorite cassette with special adhesive tape and then digitize it. Records should be cleaned of fine dust particles with brushes provided for this purpose.
FAQ - Frequently Asked Questions about Digitization Devices
How time-consuming is the digitization of music cassettes?
Digitizing cassettes is possible in real time. If you want to transfer the music from a cassette with 60 minutes of playing time to an external hard drive or CD, you must allow as much time to convert to MP3. In addition, no data is stored on the cassette. Artist, title, album, or year of publication information must be entered manually when digitizing. Therefore, you have to add the processing time of the files to the actual digitization.
Is digitizing cassettes legal?
A private copy for your own needs is allowed as long as no copy protection is bypassed and you do not use your digitized version commercially and sell it, for example.
How can the music be optimized by tape?
You need the appropriate software for this. Volume fluctuations or noise such as noise can usually be adjusted or reduced with just a few clicks.
This text is machine translated. About Audio & USB Digitizing Devices Digitize records and cassettes - no problem with digitization devices Store cassette music in better quality Use the digitizer as a playback device Buy an...