This text is machine translated.
About USB chargers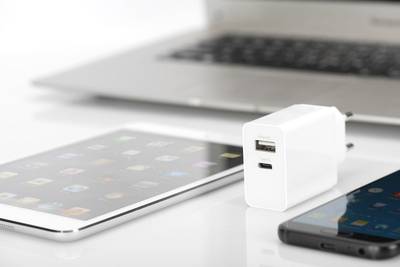 With USB chargers, you can charge smartphones, tablets and other mobile devices quickly and conveniently – depending on the model, even several devices at the same time. Please find out what you need to pay attention to when purchasing the chargers in our guide.
Many empty batteries, one USB charging station

The most important purchase criteria for USB chargers

Our practical tip for quick charging and a long lifetime of Batteries

FAQ - Frequently Asked Questions about USB Chargers
How USB chargers work
Devices with USB interfaces can be found in almost any household – in multiple versions, including smartphones, tablets and MP3 players. The abbreviation USB stands for Universal Serial Bus, i.e. a serial bus system in which bits are transferred one after the other (and thus in series) from one device to the other during data transfer. Among other things, smartphones and tablets use USB for data transfer and power supply. USB chargers are used to conveniently charge the installed batteries, which are offered in different versions and price categories.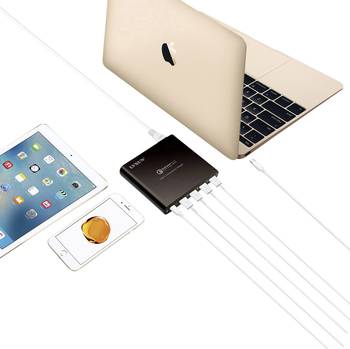 In order to recharge the battery via USB, a power supply as well as a USB cable are necessary, for example with micro-USB plug, which is used with a variety of mobile devices. The alternating voltage from the socket is converted into direct current in the corresponding current and delivered to the device. Refer to the manufacturer's specifications for the maximum number of amps that a power supply can deliver. Also on the power supply itself, see "Output" Information
. Modern end devices automatically regulate how much energy is absorbed during charging, so that even more powerful chargers can be used without any problem – provided they are tested models. In any case, safety standards must be observed to prevent damage to equipment and other problems. Although a smartphone or tablet can also be charged via USB on a PC, this is the slowest option. While USB 2.0 ports deliver up to 0.5 amps, USB 3.0 and USB 3.1 ports can reach a maximum of 0.9 amps. With a charger for connection to the socket, you can charge mobile devices much more quickly.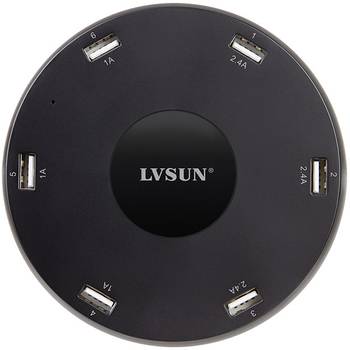 Many empty batteries, one USB charging station
In the office or in multi-person households, the use of many devices can lead to "queues" at plug strips or to annoying cable mess. Many modern chargers offer several USB ports to counteract this problem. In everyday life, charging stations with two, three, four or more slots prove to be very useful, because with this, several devices can be supplied with power – and at the same time. But there are also differences here. While some stations offer USB ports with different charging currents, other manufacturers provide models with identical USB outputs, such as four USB ports with a maximum charging current of 2400 mA.

In addition to charging stations with storage areas for several devices, adapter plugs with integrated USB ports that allow simultaneous use of the socket are practical. CAR and truck drivers who want to use smartphones and tablets on longer journeys can use special chargers that can be plugged into cigarette lighter sockets.
The most important purchase criteria for USB chargers
Ideally, you should use a USB charger to charge the battery, which is perfectly tailored to your smartphone, tablet or other devices. In principle, chargers with a higher or lower charging current can be used. However, if a "weaker" power supplier is used for charging, the process takes longer. At a higher charging current, the device usually only accepts as much as it can. In general, tablets require a higher current than smartphones. When purchasing USB chargers, it is also recommended that you pay attention to other specifications. These include:
Compatibility
Are you using brand new devices or older models? Depending on the end device, you need a special output on the USB charging cable. Micro USB cables are often the choice. In addition to Micro USB, versions with mini USB or USB type C (USB-C) are also available.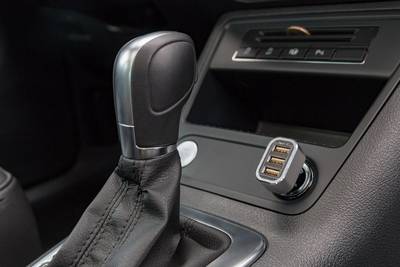 Suitable equipment:
Short-circuit proof should be a device for charging and also have an over-voltage and over-heating protection. You should pay particular attention to safety standards to ensure that nothing is damaged. Multiple USB outputs are beneficial when multiple devices are used in the home or office. If the charger is often transported, it is advisable to pay attention to a robust housing.
For stays abroad, suitable adapters are necessary depending on the destination, so that you can use the charger on vacation or on business trips. If you carry mobile devices on longer car journeys or professionally in the truck, you need battery chargers with cigarette lighter plug. Models with one and several ports are also available for use in cars.
Additional features:
Many charging stations combine a smart design with practical features. Thus, on some stations with non-slip surface several terminals can be positioned securely and stably for charging, while the cables can be stowed inside. Some models also have a built-in pull-out tablet stand. For a secure hold of the station, non-slip elements on the underside prove to be practical.
Practical tip for quick charging and a long life of rechargeable batteries
To optimize the charging process, short cables should be used that support fast charging speeds and high currents of up to 2.4 A. As a general rule, any charging process will strain the battery for a long time, so mobile devices should be charged as rarely as possible.
FAQ - Frequently Asked Questions about USB Chargers

Can the smartphone be connected to any charger?
Smartphones and other devices can be charged on all wired chargers with an appropriate connection cable. For optimum charging, some chargers offer special USB connections that are tailored to the requirements of modern terminals.
How many terminals can ich connect to a USB charger?
In principle, all ports of the charger can be occupied at the same time. However, the maximum output current should be observed. If this value is exceeded by the connected mobile devices, the charging time is extended.
Does the charger work abroad?
Suitable adapters are available for the different types of sockets.
What is the fast charging technology for smartphones and tablets for?
Those who have little time but need a device can use the so-called quick charging technology. This is intended to allow compatible devices to reach a battery level of up to 80 percent within 35 minutes. However, this only works if both the power supply and the cable as well as the terminals support the quick charging technology.
What do you need to pay attention to when charging?
The charging status of a device is ideal between 30 and 80 percent. The rechargeable battery should be discharged completely as rarely as possible. A constant interruption of the charging cycle is not recommended, as is charging overnight. Location services, Bluetooth, background apps, mobile data usage, WLAN and a high brightness of the display are common "power guzzlers" and reduce the battery life. It is recommended that you disable rarely used services.
This text is machine translated.        About USB chargersWith USB chargers, you can charge smartphones, tablets and other mobile devices quickly and conveniently – depending on the model, even several devices at the same ...