This text is machine translated.
General information on USB connectors

How does data transfer with USB work?

Which USB generations are distinguished?

What connector format do I need?
General information on USB connectors
The Universal Serial Bus, or USB, is a widely used serial interface that connects electronic devices to exchange data. USB technology is originally from the PC area and was developed to connect peripheral devices such as printers, scanners and other hardware to the home computer.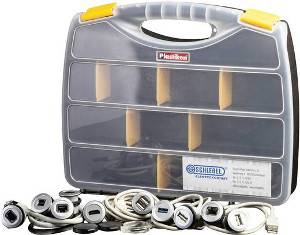 USB has been a significant simplification for users since its launch in 1996, thanks to convenience features such as the ability to connect devices during operation (hot plugging) or the automatic recognition of hardware (plug & play). With the introduction of USB 2.0 in 2000, the data transfer rate could be increased massively, so that USB was also used for the connection of external mass storage and has meanwhile become the standard over competing systems such as FireWire or eSATA. As USB 1.0 provides a maximum transfer rate of 12 Mbit/s, transfer rates of 10 Gbit/s are possible with USB 3.1. There is a wide downward compatibility, however, which has limits (especially in connection with the increased variation width of connectors).
Since mobile phones use USB as standard interface and power supply, numerous cables with USB-C or micro-USB plugs are in use . On the other hand, classic PC peripherals such as printers or scanners tend to use type B USB connectors, while host-side connectors are expected to use type A. When purchasing USB connectors, it is therefore advisable to determine in advance which USB generation and plug format is actually required.
How does data transfer with USB work?
Communication in a USB system is controlled centrally by a host controller, which is usually one of the implemented modules of a home computer motherboard. The host controller reads data from connected devices. Connected devices may only send data on request by the host controller. An exception is USB on the Go devices that can communicate without the involvement of a host controller. Newly connected devices are assigned a unique address by the host controller and are asked, among other things, for manufacturer and product ID. The USB standard defines different device classes that can be controlled with generic drivers. This does not require a separate driver for each device. Devices with basic functions such as keyboards, mice or mass storage can be used immediately without previous driver installation.
USB already provides a power supply to connected devices via the cable connection used since the first version. The maximum power consumption of customers has been extended from 0.5 W initially to 100 W with the continuation of the USB specification.
Which USB generations are distinguished?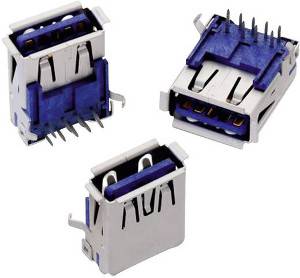 The USB standard can be divided into the following versions:
USB 1.0
USB 1.0 was introduced in 1996 as a unified successor to a number of different PC interfaces. Due to the universal requirement, the standard was not limited to keyboard and mouse, but was also intended for further PC peripherals. With a transmission speed of up to 12 Mbit/s, the connection of mass storage was hardly possible.
USB 1.1
USB 1.1 was introduced as a specification in 1998, primarily eliminating errors and unresolved problems of the predecessor. The transfer rate remained the same.
USB 2.0
Introduced in 2000, the USB 2.0 specification ("high-speed") is the most widely used and found in almost all computer systems . With a transfer rate of 480 Mbit/s, it enabled the regular use of data-intensive connections such as mass storage or video devices. This allowed USB to compete with the FireWire system. The maximum power supplied has been increased from previously 0.5 W to 2.5 W.
USB 3.0
In 2008, USB 3.0 was introduced with the name addition "SuperSpeed" and a theoretical transfer rate of 5 Gbit/s. The maximum possible net data rate is therefore slightly below 4GBit/s.. New plug shapes and cables have been introduced with USB 3.0. In addition to the well-known USB 2.0 ports, commercially available home computers usually have several USB 3.0 ports. However, USB 3.0 transmissions only take place if both host controllers, cables and end devices have the standard. Otherwise, the device switches to USB 2.0 mode. With USB 3.0, a normal power consumption of 4.5 W is available – with the USB type C plug introduced in 2014 even 15 W or 100 W in the mode USB Power Delivery (USB-PD).
USB 3.1
The USB 3.1 standard, which was launched in 2013, doubled the transmission speed to gross 10 Gbit/s. The previous USB 3.0 standard was introduced in the new specification and has since been officially called "USB 3.1 Gen 1". SuperSpeed + is therefore referred to as "USB 3.1 Gen 2".
Compatibility
The USB-technology is characterized by a wide downward compatibility, which also enables the longer-term use of older terminals. This allows USB 2.0 devices to be used on a USB 3.0-enabled host controller. It is also possible to operate USB 3.0 devices on a maximum USB 2.0-enabled host controller. However, it should be ensured that it can operate the required power consumption of the terminal. For actual operation in the USB 3.0 specification, in addition to the host controller, the cable as well as the respective terminal device must also master the standard.
What connector format do I need?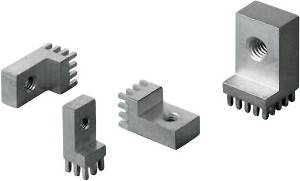 The usual formats are:
Type A
The most common design is the type A plug, for which a suitable socket can be found on almost every computer as a classical USB connection type. The rather large design is due to the history of development in the PC sector and makes it less interesting for small or mobile devices. Type A connectors are typically used to connect to a host.
Type B:
Plug type B is much less common than type A. The most commonly used application area is the connection of printing and copying machines. It is often also used when connecting external hard disks.
Type C
The type C design was introduced in 2014 and is the latest format in the USB connector family. Compared to type A and type B, this design is much more compact. Due to the point symmetrical design, the plug does not have to be inserted in a certain orientation, which simplifies the operation considerably. The Type C connector allows a current of 3 A at 5 V rated voltage compared to the previous specifications and can therefore provide 15 W power consumption. In USB-PD mode, a current of 5 A is possible. The voltage can be increased from regular 5 to 12 or 20 V, which enables power consumption up to 100 W. By enabling the flow direction, the power supply is now also possible in both directions.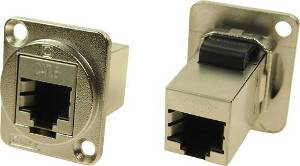 Micro USB
The micro USB plug is currently the most common connection for mobile devices such as smartphones or tablets. Due to its compact design, it can easily be placed in a housing. This type of connector is being replaced by type C during ongoing development.
Types of construction
The universal application area of USB plug connectors now offers a much larger range of designs compared to the initial phase of USB technology. The specifications of the respective USB generation must be observed as well as the possible combinations and the space available in the area of application. Micro and mini plugs are available for small space options, which are supplemented with the new type C and replaced in the long term.
So there are some criteria to consider when purchasing USB connectors. The most important aspect should be the compatibility of the devices to be connected. Depending on the configuration, the selection of available variants can be reduced to a more manageable level. In addition, the available space in the application area may play a role or special uses such as a more powerful power supply, which may speak for the selection of the type C plug. In any case, a look at the technical specifications and data sheets of the terminals used helps to be able to clearly assess the performance characteristics and clarify any ambiguities.
 This text is machine translated.           About USB connectors General information on USB connectors How does data transfer with USB work? Which USB generations are distinguished? What conne...