This text is machine translated.
USB sticks are a fixed size in terms of storage media, both at home and in business. They now offer storage capacities that were previously only known from fully developed hard disks and fit comfortably in every trouser pocket. We give you an overview of the current models and the technology behind them.
Possible applications of USB sticks

USB sticks: Design and function

FAQ – Frequently Asked Questions about USB sticks
USB sticks are all on the lips: If there was a pen earlier than a giveaway, it is now in many cases a branded stick with some GB. This shows, among other things, that the small USB drives have become very cheap. With falling prices, the spread has also increased sharply. A USB stick is now standard equipment for any workplace, whether for work or for work. And that's right, the small sticks take up a lot of GB of data in the smallest space, depending on the available storage capacity. Depending on which USB type is available as an interface, the data transfer to the stick takes place at a speed, which can sometimes even be measured with an SSD. Nevertheless, the USB memory remains so compact that it can be taken everywhere without any problem

The small memory sticks are available not only with different USB interfaces and different memory sizes, but also in special designs. Thus, sticks are available, which are particularly resistant and waterproof. Models are also available, in which you can fold the USB plug, which was made the stick even more compact. And of course there are the especially small mini USB sticks, which barely extend beyond the USB connection and can remain in the USB port even during the transport of a notebook, without the risk of damage.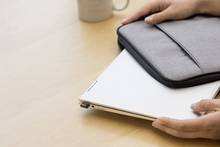 Possible applications of USB sticks
The application areas of a USB stick are varied. They can be used as simple mass storage and record large amounts of data such as videos or even an entire music collection. In the fast USB 3.0 version, a stick is also perfect as an installation medium, for example for operating systems. In contrast to installation via DVD, the process is completed much faster. Windows also offers the possibility to use a USB stick as cache. Assuming the memory stick is as fast as possible, a speed advantage can be achieved in combination with a conventional hard disk. However, if a fast SSD is already working in your computer, the use of the ReadyBoost function does not make sense. An operating system can also be started directly from a stick. This can be useful if you may need to repair the actual operating system on your computer or if you always want to use your usual working environment on any computer with a USB port.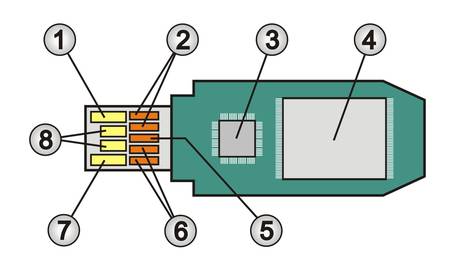 1. Mass (USB 2.0)
2. Data reception (USB 3.0)
3. Controller
4. Flash Memory
5. Ground (USB 3.0)
6. Data transmission (USB 3.0)
7. Power cable (USB 2.0)
8. Send/Receive (USB 2.0)
USB sticks: Design and function
A USB memory stick works inside with flash memory. This is a non-volatile memory in which information is stored by means of electrical charge. Since there are no moving parts in such a flash drive, there is a high tolerance to shocks and vibrations. Depending on the connection of the flash memory, significantly higher transfer rates are possible than with a normal hard disk.
The USB interface has evolved significantly over time. USB 1.0 only achieved a speed of 1.5 Mbit/s. Corresponding memory sticks are no longer available and due to the low transfer rates USB 1.0 (low speed) no longer plays a role today. The successor USB 2.0 (high speed) is still used many times today. The transfer rates are 480 Mbit/s. However, USB 2.0 is only suitable for larger USB memory sticks with several GB storage capacity. The speed of 480 Mbit/s sounds good at the first moment, but it is only a theoretical value. Protocol overhead significantly reduces actual speed.
This applies to all standards, from USB 1.0 to USB 2.0 and USB 3.0 to USB 3.1. For larger USB storage media, USB 3.0 (Super Speed) or USB 3.1 (Super Speed +) are much better. USB 3.0 comes at a speed of theoretically 5 Gbit/s, while USB 3.1 reaches up to 10 Gbit/s. This allows you to copy even large files such as a video in full HD to the USB drive in a few seconds. USB type C is relatively new: The standard differs fundamentally from USB 2.0. Or USB 3.0. And only defines the twist-proof plug. Ultimately, USB 3.0 or Thunderbolt can be plugged behind a USB-C plug. In any case, a USB drive with a USB-C plug can be connected to a compatible smartphone without an adapter.
Our practical tip: Secure sensitive data
If you are transporting sensitive data on your USB stick, it is best to use a model with hardware-based encryption. The Kingston DataTraveler 2000 offers 256-bit AES encryption and is available in capacities from 4 GB to 64 GB.
FAQ – Frequently Asked Questions about USB sticks
How long does a USB stick last?
This depends on various factors, such as the flash memory used. The manufacturer Intenso states that its memory sticks have a shelf life of up to 10 years under normal storage conditions.
This text is machine translated. About USB sticks USB sticks are a fixed size in terms of storage media, both at home and in business. They now offer storage capacities that were previously only known from fully developed hard disks and fit c...