This text is machine translated.
What was a USB switch box and how was it structured?

Are there different types of USB switches?

Find the correct USB switch
Our practical tip: Separate correctly

What was required when installing USB switches?
What was a USB switch box and how was it structured?
The abbreviation USB stands for Universal Serial Bus and describes a computer interface that should simplify the confusion of the previously many different interfaces. Desktop PCs and laptops usually have several USB ports, so that storage media such as USB sticks and various USB devices can be connected simultaneously, for example mouse, keyboard and printer. These are controlled with a USB controller. The way the controller uses the identifier allows you to connect up to 127 devices. But that is only a theoretical value.
The peripheral devices (keyboard, printer, USB sticks and so on) usually have only one USB port. If such a device is to be made fit for sharing with several computers, a connection that can be changed as easily as possible must her. This is done by a USB switch, also called a USB switch or hub. It connects several computers with the relevant USB devices such as printers, mobile data stores or webcams as switchable USB points, which are thus available for more than one user.
For this purpose, USB inputs and outputs, so-called ports, are installed in a hub in a box or housing, which can be connected or disconnected with a switch. Better equipped switches have hot key switching options, i.e. by means of a key combination on the computer keyboard, or automatically recognize which connection is to be used. In principle, the whole thing works like a switch, with whose position it is decided where the train is going. Instead of the signal at the track, an LED display in some of these junction boxes signals the currently active direction, i.e. the currently used USB ports.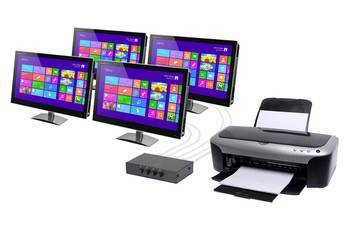 4 Port USB 2.0 switch for example for a common printer
Some USB switches use the voltage applied to the USB port to supply power. Devices with many connection options often have their own power supply via the wall plug transformer. A USB connection is not tied to an operating system or special software. Cables, connectors, and switches work with Windows, Linux, Mac OS, or Sun-powered computer systems.
Are there different types of USB switches?
USB was originally intended to simplify computer interfaces, and over time different standards have developed, mainly in terms of transmission speed. Since USB 3.2, transfer rates of up to 20 Gigabit per second are possible.
In addition to the various USB version numbers, the USB ports are supplemented with additional letter identifiers "-A", "-B" or "-C", which was used to indicate the design. This must be taken into account when purchasing a USB switch.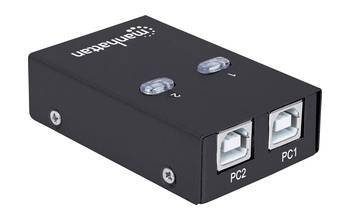 USB switch with LED status display for the active USB port
Mini and micro designs within the version numbers and type letters create additional confusion. The advantage is that the mechanical versions are designed in such a way that incorrect connection is not possible. In addition, USB 3.0 is backward compatible with the same previous versions. The new USB 3.1 type C does not match other previous USB connectors. This can only be realized via adapters. For this purpose, this version offers high-speed transmission and the plug can be inserted rotated by 180 degrees.
A special switch is a KVM switch. The abbreviation for Keyboard Video Mouse, in German for keyboard-screen-mouse switch. This allows you to control multiple computers with a single mouse, keyboard, and screen. The individual devices are connected with a USB switch with the respective system to be controlled.
Fast USB versions are increasingly used to control not only printers, but also network and/or HDMI connections.
Find the correct USB switch
In our online shop you can find USB hubs with different equipment, which take into account the different plug and socket variants as well as the USB specifications.
You can select the products by USB specifications, the development level numbers, and filter them by interfaces (output and input).
It is also important to note the number of inputs and outputs available and, if necessary, the number of switchable PCs. Another distinguishing feature is the power supply of the USB switches and how the switching function between the ports is implemented. With the help of the selection options in our shop you can quickly find your suitable USB switch.
Our practical tip: Disconnect USB switches correctly
You do not need to turn off the power supply to connect and disconnect USB connections. To avoid possible data loss, however, always use the Eject (Mac OS) or Safely Remove Hardware and Eject medium (Windows) feature.
What was required when installing USB switches?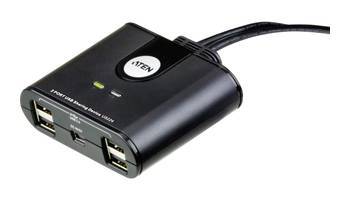 USB cables, plugs and sockets are electrical products that must be handled with care. Avoid too little bending radii or crushing to prevent cable breaks.
Dust is the natural enemy of the electrical connection. Keep the plug and cable free of dirt. Covers can be used to seal unused connections.
Due to the wave resistance of USB cables, a cable length of five meters should not be exceeded for connections. If longer distances are to be overcome, active USB-lift should be used, which prepare the signal and usually also provide additional ports.
Another way to increase the range is called repeater cables. They are used on USB ports that can provide at least 500 milliamps of power.
This text is machine translated. About USB switches What was a USB switch box and how was it structured? Are there different types of USB switches? Find the correct USB switch Our practical tip: Separate correctly ...