This text is machine translated.
Useful information about VDE testing devices
VDE test devices are devices with which, depending on the model, you can test both fixed electrical installations and mobile electrical devices for conformity and safety.
Design and application of VDE test devices

What functions do VDE devices offer?

What was to be considered when purchasing?
Design and application of VDE test devices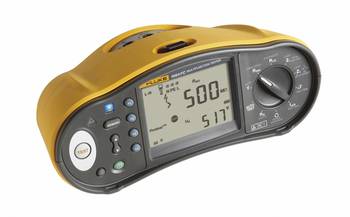 VDE test devices are for electrical devices and systems that comply with the standards of the Association of Electrical Engineering, Electronics and Information Technology, VDE for short. This is a collection of DIN standards that provide key data on the properties of electrical devices and units to ensure complete safety and functionality. These test devices can be used to check and ensure the statutory DIN VDE regulations.
A distinction is made between two categories of VDE devices. Device testers are designed to test mobile electrical consumers. This includes most electrical consumers, such as microwaves, controllers or speakers, whether they are used for work or private purposes.
Installation testers are suitable for testing permanently installed electrical circuits and installations. This includes both fixed electrical appliances such as ceiling lighting or kitchen equipment, as well as the electrical installation behind it, which is laid in the building. These include, for example, the power and data lines from the distributor box to the socket.
Externally, the devices usually follow a simple design. By default, you have a rotary control that selects the desired measurement method. The device uses an LCD display to display the measured values and other information. The device to be tested is connected to the tester via measuring sockets.
In addition, there are a few additional keys, which offer certain additional functions depending on the device. These include different measuring ranges, automatic sequence of different measurements or a memory function for securing the measurement results. In addition, the device testers are usually used in a robust case, in order to protect them from damage during mobile use.
What functions do VDE test devices offer?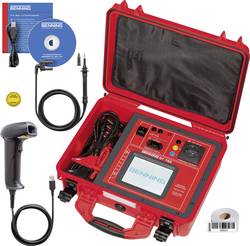 The test equipment is similarly constructed, but differs in its functions.
Installation testers and device testers each have different functional scope and special functions, which they each qualify for their area of application.
However, some functions are common to both devices. These include the classic basic multimeter functions for testing voltage, current and resistance.
The measurement of the insulation resistance also masters both types of devices. This measures the resistance of the protective insulation to check for faults. This ensures that all conductors are properly insulated.
In addition, device testers offer some other specific functions. One of these is the so-called protective conductor resistance test. In this case, the tester is connected to metallic housing parts of the consumer and the protective conductor and checked whether they are connected correctly everywhere. The resistance must be very low.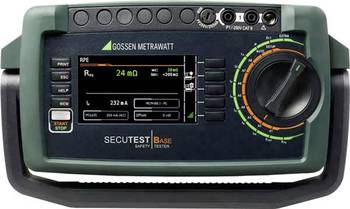 The measurement of the protective conductor current is also part of the functional scope of a device tester. This may only be carried out after successful testing of the insulation resistance. This is used to measure whether a current flows through its protective conductor when the electrical consumer is operated. In normal operation, no current should flow, but a small leakage current is usually practical.
A VDE device tester can be used to check whether this is below the statutory maximum values. Alternatively, the equivalent leakage current can be measured. The measuring setup is the same, but takes place when the consumer is switched off. Instead, the device tester places a voltage on the outer and neutral conductor and checks the protective conductor.
For a smaller device without protective conductor, the contact current is alternatively measured. Here, it is tested whether metallic outer parts of the end device are supplied with current.
Installation devices, on the other hand, also offer loop resistance measurement. This measures the total impedance of the power source and all conductors that are passed through in case of a fault current. For example, conclusions can be drawn about the short-circuit current in the event of a fault. For this purpose, the low resistance of the earth conductor is also checked. If this is too high, the residual current operated circuit breaker belonging to the circuit does not trigger in the event of a fault.
This RCD/FI fuse can also be tested with regard to tripping voltage and current as well as its tripping time. This RCD/FI analysis ensures that the circuit breaker disconnects properly in the event of a fault.
A continuity measurement can also be used for wall installations to determine which cable ends are connected to each other.
What was to be observed when purchasing a test device?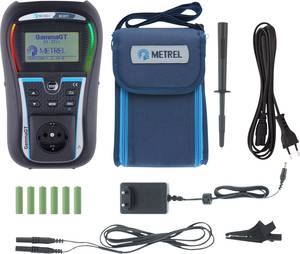 VDE device testers are used for testing electrical installations as well as for checking electrical devices. In addition to this basic division, the different devices also differ in terms of functions and specifications, so that they are particularly qualified for different tasks.
In order to find the right VDE tester for your application, it is worth paying attention to some key data. You can find these on the respective product page at Conrad or on the data sheets and instructions that can be found there under "Documents & Downloads".
In order to use these devices to determine the operation and safety of an electrical installation or an electrical device in accordance with legal requirements, they need to be certified accordingly. The devices available from Conrad are therefore certified according to the corresponding VDE guidelines.
The devices are designed for specific measurement categories and voltages. These can be found in the data sheet as well as on the respective product page. These must not be exceeded in order to avoid damage.
While installation testers may only be used by trained personnel, there are special measuring devices that can be used by non-specialists for inspection. These must indicate directly during the measurement whether the measured value meets the VDE guidelines.
Depending on the type of device you want to test, the connection type to the tester is relevant. This can be done in different ways depending on the device. Depending on the test device, the connection is possible via alligator clips, measuring tips or Schuko socket. Many devices even offer several possibilities.
If you want to test both mobile devices and fixed electrical systems, you can use a device tester set that combines the two types of measuring devices in one.
If you are unsure about your purchase or if you have any further questions, our customer service will be happy to provide you with personal advice.
Bottom line
With device and installation testers, they test portable electrical devices or fixed electrical installations according to the statutory DIN VDE standards. To determine the functionality and electrical safety of this.
This text is machine translated. Useful information about VDE testing devices VDE test devices are devices with which, depending on the model, you can test both fixed electrical installations and mobile electrical devices for conformity and s...