This text is machine translated.
About Video Digitizers and Game Capture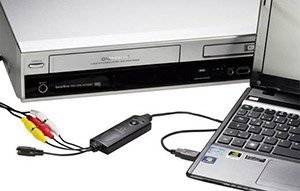 Analogueue formats have been a key factor in the media landscape since mass communication began. However, since the triumph of computer technology, they have lost importance in a very short time. In the meantime, analogueue media can only be found in marginal areas and special niches. Nevertheless, their importance for the documentation of past events remains great. This is also true in the private sector, where, in addition to family photo albums, it may be necessary to digitally secure extensive collections of old video recordings.
Aside from expensive special solutions for public institutions such as museums and archives, there are powerful technical solutions for ambitious private users, for example to digitize old recordings with video grabbers, restore them and optimize them. The decisive advantage is that the long-term decay of analogue data can be stopped in this way. Especially magnetic tapes such as VHS or high-8 video cassettes show massive loss of quality after only a few years, which intensify as the age increases. However, if recordings are available in digital form, they can be archived virtually without loss, depending on the properties of the storage medium used. Even if new problems arise in the digital world, such as the rapid development, through which even widely established standards are overtaken within a very short period of time, the storage and processing of media data is much easier and with much less effort to implement than in the "analogueue world".
Digital data can be reproduced very easily. Not only can backups be made in this way. It is also possible to exchange data easily with relatives or friends, was made easier by the increasing digitalisation of all areas of life – for example via social networks. In addition, there is the resulting storage of physical media. The contents of entire removal boxes of VHS cassettes can be stored on small storage media, which fit like the USB stick or the SD card in a trouser pocket. At the same time, the data can generally be interpreted and displayed by most currently available terminals.

A video digitizer is required to digitize analogueue video films. The basic properties include the available interfaces for analogue input and output signals and the respective digital video formats into which the device transfers the read-in video content. These differ by the video codec used, the available image resolution, frame rate and the available data compression.
The interfaces for input and output signals are characterized as follows:
AV
The term "audio" and "video" is used as the term. There is no separate AV interface. The term has been used frequently and is still used in some cases as a synonym for the available video interface of an analogueue multimedia terminal. Often, the FBAS video output is labeled AV.
FBAS (color-image-blanking-synchronous signal) via cinch plug
A composite or composite video signal is transmitted via three cables with cinch connectors. The image information is not separated according to brightness and color information, but is transmitted as a composite signal – usually via the cable with the yellow connector. The other two cables (usually red and white plugs) transmit the two channels of the stereo sound.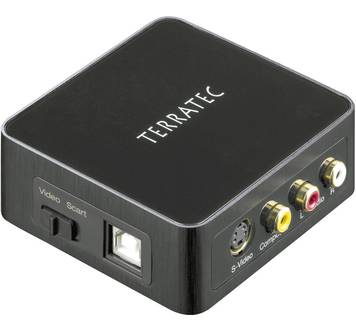 HDMI (High Definition Multimedia Interface)
HDMI is a widely used interface for transmitting digital video and audio signals. Since with the progressive digitalization hardly any more analogueue terminals are present in everyday life, the conversion of analogueue to digital data and vice versa has become almost superfluous in the transmission of multimedia data. The HDMI interface has therefore been able to assert itself as a transmission standard, not least through its simple handling. The display of high-resolution video signals is possible without lossy compression due to very high data rates. For example, video transmissions in 4K resolution from HDMI 1.4 are possible.
S-Video or Y/C.
The S-Video interface transmits brightness and color information of an analogue video signal separately from each other. It differs from the FBAS signal in which the color information is mixed into the brightness signal. The result is more broadband video signals, which was a significant increase in the display of details compared to FBAS signals. S-Video is usually transmitted via the 4-pin mini DIN connector. It is also possible to transmit with a SCART plug, making sure that both the cable and the input support S-Video, as this is not part of the SCART standard.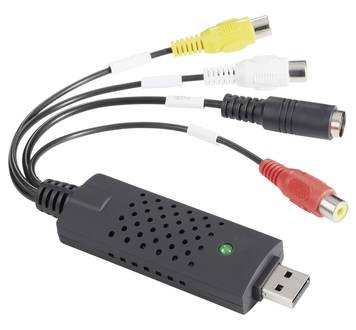 SCART / S-VHS + 3 Cinch convertible
The SCART connection is a European standard for plugs for transmitting audio and video signals, with which a standardization for connecting different video devices should be achieved. By default, analogue RGB and FBAS signals can be transmitted; occasionally S-Video. Digital multimedia signals are not supported. Since SCART cables transmit analogue signals, the quality of the transmission depends directly on the quality of the cable used. Thus, a cable length of more than 3 meters considerably reduces the picture quality. High-quality cables clearly distinguish themselves in visible quality differences in transmissions and also cover all 21 available poles.
USB (Universal Serial Bus)
In conjunction with video digitizing and game capture devices, the USB interface is usually used for data connection to the computer. This not only transfers digital data, but also ensures the power supply of an end device. As a universal serial interface, USB connects a variety of digital peripheral devices with the computer, making data exchange possible without any problem.
Video PCI plug-in cards
Video plug-in cards enable the conversion of analogueue video signals into digital data, which can then be stored on the home computer or processed further. They are the internal counterpart to the USB-connected solutions. Usually, the PCI interface on the motherboard of the computer is used for system connection. Video plug-in cards as well as the external versions generally support the usual analogueue SD video formats in PAL, SECAM and NTSC at resolutions of 720 x 576 (PAL) and 720 x 480 (NTSC) at the format-dependant picture repetition rates.
Video grabber
Video grabbers are specialized software applications for converting analogue to digital video signals. You will need an enclosed hardware component for recording the analogue source signals. Therefore, the included plug-in boxes usually have the usual cable sockets. With video grabbers, analogueue videos, for example, can be conveniently transferred from VHS video cassettes or an analogueue camcorder to a digital format of corresponding resolution.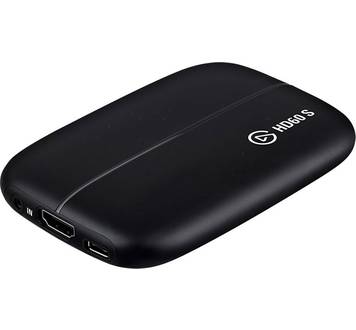 Streaming console
Streaming consoles are programmable control panels that "drive" pre-defined video content or effects to the video stream at the touch of a button. They allow easy control over the recordings to be displayed, which can also be easily realized during a live video transmission. Content can be exchanged by pressing a button, effects can be displayed within seconds. The operating keys are completely programmable and can be assigned freely. The device is usually connected via the USB connection; occasionally an external power supply is required.
Game capture
A game capture converts video and audio signals from a game console or computer to a video stream that can be saved as a file or transmitted to the network without loss. The advantages of Game-Captures over purely software-based systems lie in a far-reaching control over the played-out streaming signal. In this way, self-created graphics or relevant graphics and game settings, which are of interest when transferring a computer game, can be displayed for overlays.
This text is machine translated.        About Video Digitizers and Game Capture Analogueue formats have been a key factor in the media landscape since mass communication began. However, since the triumph of computer t...