Useful information about video door intercommunication systems
This is how video door intercommunication systems work
What is important for video door entry systems?
IP video door intercom systems
Our practical tip: Create the greatest possible field of vision
FAQ – Frequently Asked Questions about Video Door Intercoms
This is how video door intercommunication systems work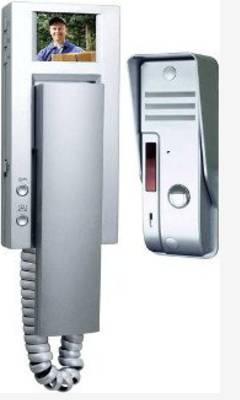 Door intercoms with video function consist of an outdoor unit, on which the bell, a microphone and the camera are attached, as well as an indoor unit with monitor and controls for speaking, for opening the door and, if necessary, for controlling other functions. An exception is IP-based door entry systems, in which an existing network device such as a tablet, smartphone or PC performs the function of the indoor unit.
With regard to the installation, an important point is the wiring of the intercom with two or more cables for communication between the outdoor unit and the indoor unit. Generally, the more wires are laid, the more connection options are available. This is not a problem for new buildings, as it can be wired in advance. In the case of existing buildings, already laid cable paths can lead to restrictions on use. For this purpose, systems are available in so-called two-wire technology, which realize audio and video signal transport as well as the power supply of the door intercom system via only two wires. In this case, ensure a minimum diameter of 0.75 mm2 of the cables and a clean connection of all devices to guarantee an optimum signal transfer. Door entry systems with radio and WLAN or Bluetooth connection are available. Such intercoms are often easier to install, but they are more susceptible to interference.
What is important for video door entry systems?
Both indoor and outdoor units of the video door entry system are in most cases fixed to the wall. Interior units can be easily surface-mounted, with few exceptions; portable versions are available in some cases. Outdoor units are available for flush and surface mounting.
In addition to the installation, various comfort features play a role. An important aspect of door entry systems, for example, is the size of the monitor on the indoor unit. Some displays also have a touch function, so they can be operated by touch.
A hands-free function allows you to talk to people in front of the door via an intercom system without having to hold a handset. Systems with radio transmission, so-called wireless video door intercommunication systems, usually offer an internal portable unit, which is designed like a mobile fixed-line telephone depending on the version and also functions.
Functions such as volume control, a silent function, selection of ring tones, possibly available memory for photos and video and regulation of the call duration can round off the scope of the door intercom. Depending on the requirements, video door intercommunication systems with special functions and extensions are available. Some systems enable access control with RFID transponders for opening the door without a key.
IP video door intercom systems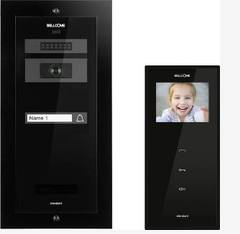 IP-based video door intercommunication systems (IP stands for Internet protocol) are a special case and are enjoying increasing popularity. These are outdoor units that are connected via the data network either via LAN or WLAN. All functions of the system can be controlled with IP systems with already existing devices in the network, such as the PC, tablet or smartphone – in the sense of the smart home. The greatest advantage of such intercoms is the wide range of functions, which can be extended almost unlimited on the software side. However, such a system depends on the general stability and availability of the terminals used in terms of the susceptibility to errors. For example, you do not need to control a smartphone when its battery is empty.
Our practical tip: Create the greatest possible field of vision
Many cameras offer a very wide angle of perspective, in order to enable a large viewing area despite the small distance to the subject. If this is not enough, additional surveillance cameras can be used to see visitors from several perspectives. In this case, make sure that the video door entry system used permits the integration of other cameras.
FAQ – Frequently Asked Questions about Video Door Intercoms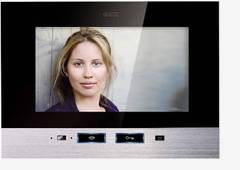 How many indoor units are possible per outdoor unit?
There are door entry systems that are only intended for one indoor unit and those that can be connected to a high number of indoor units. Sufficient cabling is relevant in advance.
Are the door entry systems weather-proof?
Yes, most systems are weather-proof with respect° to expected weather conditions, with protection against water spray and temperatures between about -20 and 50 C, depending on the design.
(This text is machine translated.)
Useful information about video door intercommunication systems This is how video door intercommunication systems work What is important for video door entry systems? IP video door intercom systems Our practical tip: Create the greatest possible...