This text is machine translated.
Watchmaker tools for professional precision mechanics

What watchmaker tools are available from Conrad?

FAQ – Frequently asked questions about watchmaking tools
Watchmaker tools for professional precision mechanics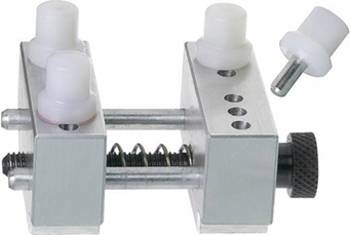 Watches are all about ticking – literally – correctly. Mechanical watches are masterpieces of precision mechanics and require inspection, maintenance and sometimes repair. In addition to the necessary sensitivity, high-quality, precise and long-lasting precision mechanical tools are required. This is the only way to do all your work, such as changing batteries, attaching bracelets and cleaning the case, quickly and efficiently.
The quality of the tools should always be at the forefront. How easy are valuable watches ruined by handling with a poor tool? Quality at professional level has its price. If you only want to change a watch strap from time to time, a solid spring bar set is enough. However, if you want to replace batteries or clean watches, multi-part watch tool sets in different designs and sizes are the better choice.
Good tools also make a contribution to occupational health and safety. High material quality and the associated durability ensure a quick re-import of the expenditure for the purchase of the tools.
The selection in the area of clock tools is very varied. Some tools can be used universally. Their design allows an adaptation to different sizes of the clock models. Others, in turn, are tuned to certain clock components.
Suitable lenses, tweezers, brushes, gloves as well as special oils and greases should be available for working on watches. These items are available in the sets listed here and in other product categories in the Conrad shop.
What watchmaker tools are available from Conrad?
In the Conrad Professional Shop menu, you can select watchmaker tools according to the criteria price, new products and offers, availability in the Conrad branches and brand. Screwdrivers can also be selected according to the available blade width of 0.8 to 3.5 millimeters and according to four standard sizes that are common in the watch trade.
Seal set
As a rule, a new seal must be inserted after opening a watch cover for tight re-closing. The set with a seal thickness of 0.7 millimeters contains 7 to 8 sealing rings each with a diameter of 18 to 30 millimeters.
assortment of spring pins for men's and women's wristwatches.
This gives you 900 bars for attaching watch wristwatches to the watch in lengths from 7 to 24 millimeters and the pin diameter of 1.5 millimeters.
Length-of-reel band shortener
This reliably cuts metal wrist bands. The set consists of the band holding block (made of plastic) for different belt thicknesses with catch gaps for the pins as well as the pin ejector with punches from 0.6 to 0.8 and 1.0 millimeters for driving in and out the metal wristband pins. The term punch here refers to a striking tool for metal and leather processing with defined diameters.
Silicone mat
The essential protection for the repair and maintenance of watches. The flexible, non-slip and soft silicone storage provides as a base for protection against scratches on the surfaces.
Pin ejector
Convenient tool for a quick change of members at rollers-wristbands with a width of up to 20 mm. With ejection pins in 1.0 and 0.8 millimeters diameter. With the additional nose the band pins can be pressed in again.
Spring bar tools for watches
Used to remove and re-insert spring bars when changing watch wristbands.
Watch case opener
On the one hand a precision tool, which is adjustable in several dimensions and is thus suitable for screwed and thus waterproof housing covers of different sizes. This includes the common bits in the set.
The other design is fitted with a special blade for opening pressed housing floors.
Watch screw set
A screw assortment with 240 clock screws in common sizes, partly with suitable nuts in a plastic box with compartments for the sizes and adjustable removal opening.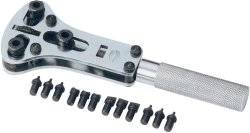 Watch work piece holder
Serves as an interface between the classic vice and the clock. The aluminum holder is suitable for clock housings with a diameter of 10 to 42 millimeters.
Watch glass/back fitting press
Universal clamp with a force-transmission lever. Can use watch bases from 20 to 40 millimeters in diameter in a wide variety of watch shapes. For this purpose, 12 plastic printing plates are available as format adapters.
WATCH GLASS SET
A collection of crystal clear, scratch-resistant polycarbonate watch lenses. Jars are domed in six diameters from 20.0 to 32.4 millimeters.
Watchmaker anvil
Small anvil for watchmakers (and jewelers) with a hardened and polished surface.
Watchmaker hammer
Special hammer for the watchmaker's trade, which is equipped with a plastic and a metal impact surface.
Watchmaker punch
For punching watch wristwatches. The pliers are made of die-cast aluminum and are self-opening. The accessories include three punches in sizes 1/1.5/2 millimeters.
Watchmaker's screwdriver and sets
These special screwdrivers have hardened blades for an exact, non-destructive intervention in the screw slot. Equipped with rotating finger cap and partly with color coding of the blade width.
Watchmaker toolkit
Complete offer of all necessary watchmaker tools individually or in a set of different sizes.
FAQ – Frequently asked questions about watchmaking tools
What was to be observed when servicing/repairing clocks?
Watches are precision products with a high proportion of precision mechanical components. Work on this requires solid knowledge, high care and a systematic approach. The profession of watchmaker is a demanding profession of training.
Observe the warranty conditions and time limits of the watch manufacturer. Such a claim may be extinguished by unauthorized intervention in the watch.
Always carry out work on the watches entrusted to you on a soft, scratch-free surface. Only use proper tools that are not damaged.
Make sure that the tool and the material are not jammed when inserting and pressing in watch bases and watch lenses.
Keep in mind that opened waterproof watches require a new sealing ring when they are screwed together to prevent the risk of leakage.
Discharged watch batteries do not belong in the household waste, but in separate collection containers (in super or DIY stores) or to the municipal waste management company.
This text is machine translated. About watchmaker tools Watchmaker tools for professional precision mechanics What watchmaker tools are available from Conrad? FAQ – Frequently asked questions about watchmaking tools Watchmaker...