This text is machine translated.
The term wearables encompasses all kinds of computer technologies that can be carried on the body. Smart watches are part of it. See our guide to find out how they work and what models are available.
Popular wearables: Smart Watch, Fitness Tracker, Heart Rate Monitor

Advantages and disadvantages of wearables

Use in medical applications

For use in industrial applications
You can find them on the wrist of friends and colleagues during sports or in everyday life: Wearables are becoming more and more popular. Whether SmartWatch, Fitness tracker, Heart rate monitor or Apple Watch. However, the mini-computers are not only a private support, but also for many areas in industry and medicine.
Generally, wearables are all computer technologies that can be worn on the body, including the head. This makes them part of the so-called ubiquitous computing. This means that computers are no longer just tools at the stationary desk. By developing small devices that can be installed anywhere, permanent information processing is possible at any location. In addition, it is one of the objects that communicate independantly via the Internet. For example, they share data with apps on a smartphone (Internet of Things, IoT).
The aim is to support the human being and provide information or evaluations. Wearables include a variety of different devices. For example, "classic" items such as pacemakers or hearing aids are included. A modern wearable is intelligent clothing, in which the small computer systems for music playback or for measuring the activity are integrated. Digital glasses that display information on a screen on the inside of the glasses are also part of it. Most popular and already used by the broad mass are, however, smartwatches, pulse monitors and activity trackers.
Depending on the model, these intelligent watches have different functions. For example, simple executions count your steps or the kilometers covered a day. More complex executions also show you when you receive a call or message on your smartphone.
Popular wearables: Smart Watch, Fitness Tracker, Heart Rate Monitor
In the area of wearables there are many different terms in circulation. Where functions often overlap. What was right for you also depends on was you want to do with it. Here are the differences and similarities between Smartwatch, Fitness Tracker and Heart Rate Monitor:
A basic feature of the smartwatches is the permanent Bluetooth®connection to a mobile phone, which is necessary for its function.
The aim of the clocks is to make the view of the smartphone unnecessary as an extension of the display. In addition to the watch display, notifications of an additional vibration alarm are possible. In the meantime even small applications can be run directly on the smart clock.
The connected smartphone requires the app from the SmartWatch manufacturer to carry out a data transfer. In addition, both devices need the same operating system, such as Android or a specially developed for the smartwatch, which is compatible with Android or iOS.
Most smartwatches have the following functions, which they transmit through the data transfer from the mobile phone: Time display, reminder functions, notifications from Whats app and Co., push messages, alarm settings as well as the sending of signals, in order to find misplaced mobile phones.
In addition, there are smartwatches of some manufacturers, which also serve as sport watches (also fitness smartwatch). They measure heart rate, pulse and movements. The user sees the evaluations of his sporting activities in the app on his mobile phone.
Many models are also an aid to health. They detect anomalies, such as the onset of epileptic seizures, heart problems, and falls. This makes it a valuable support for medical applications, for example in the care and care of older people.
The small clocks do not yet keep up with the smartphones in terms of battery life. On average, they last for one to a few days before they have to go to the charging station.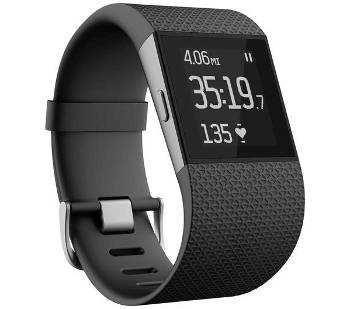 There are various names for this type of wearable: Fitness wristband, health wristband, smart band or activity tracker. They are, as the names say, intended exclusively for recording (sporting) activities and corresponding health values. These can be seen either directly on the display or in an app on the smartphone or tablet. A permanent proximity to the mobile phone is not necessary.
The aim is to motivate the wearer to move more. Once you have reached your set daily goal or set a new record, the Fitness Tracker praises the great result and continues to inspire. In addition, the results can be shared with Facebook and others, so that friends can comment on their own performance.
In order to determine the activity values, the clocks have pedometer, acceleration sensors, altimeter and a gyroscope, which records rotational movements. Using a sophisticated algorithm, they calculate, for example, the calories burned and the distance traveled by the user during jogging, cycling or hiking. Depending on the sensitivity of the sensors, the measurement result is more or less accurate. Most watches also have a GPS receiver that shows the distance traveled on a map on your mobile phone, tablet or notebook.
Some activity trackers also record the sleep behavior of their wearer. In addition, some manufacturers provide soft cuffs to make your wear comfortable during sleep. Based on the movements, the device closes at deep sleep, light sleep and waking phases and determines the quality and duration of sleep.
Barometer, thermometer and compass are also found in many devices.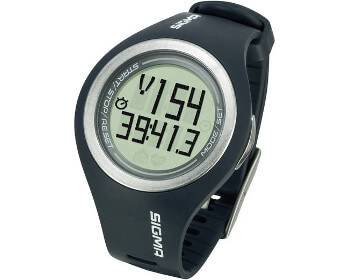 In general, heart rate monitors are primarily intended to measure heart rate during exercise. There are different variants: Some heart rate monitors use chest straps. But also the designs for the wrist measure reliably.
The goal is to monitor the heart rate and achieve the optimal heart rate for the exercise. For example, the heart rate for endurance training is different from that for fat burning. It also depends on the sporting activities so far. Especially if you haven't been exercising for a long time, a heart rate monitor can help to avoid overloading and slowly increase your training. But even professional athletes like to use the heart rate monitors, in order to increase their performance step by step.
Modern pulse monitors have some other functions. For example, they trigger an alarm as soon as the target range of the pulse frequency is exceeded. Also includes load meter, pedometer, altimeter and calorie calculation.
Advantages and disadvantages of wearables
Advantages: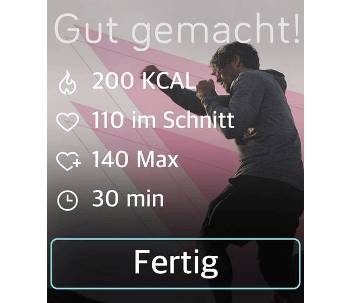 The big advantage of a smartwatch is that users no longer need to look at the phone regularly. Even the rumen in the backpack or in the handbag in search of the mobile phone is lapsed. An inconspicuous view of the smartwatch can also be achieved during business meetings or dinner with the family. For example, if SmartWatch carriers receive an urgent call, they can pick up the smartphone. They also don't miss out on information, messages, or calls. You are always online.
In terms of their own fitness, wearables are suitable for athletes who like statistics and tracking of different data or want to professionalize their training. These records can be used to improve your fitness, improve sleep habits and analyze your health. If necessary, you can do more for your health or feel confirmed in your habits.
What was an advantage for one was the other drawback. The permanent accessibility is not desirable for everyone. Therefore, it is certainly worth considering whether a smartwatch is the right one.
Users should also be aware of the fact that smart clocks can not only create a comprehensive movement profile. They also collect and store key data about their health.
In addition, it may happen that some people rely too much on their smartwatch and Co. The technique thus replaces the advice of a doctor or one's own body feeling a bit far away. One thing is clear: Wearables are a tool and not a substitute for regular screening or one's own perception.
Use in medical applications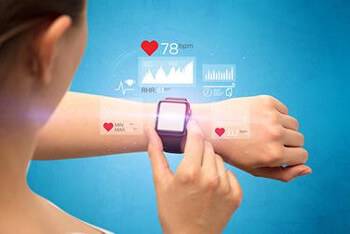 Wearables have the potential to revolutionize the medical field. Many experts are convinced of this - precisely because this area is in the middle of digitalisation. For example, heart rate monitoring allows early detection of anomalies. This is the case, for example, with inflammatory diseases, colds or borreliosis. In addition, the rate of heart rate may indicate an impending type 2 diabetes. Researchers are trying to find out what conclusions can be drawn from these tests, which have been carried out in a smaller context, on the medical everyday life. Especially regarding the improvement of treatments, the avoidance of false alarms and data protection.
Health insurance companies see another possibility. Many can imagine wearing wearables in their bonus program. The idea goes on that there are special tariffs which, as a condition, include the wearing of a wearables. This allows health insurance companies to closely monitor their customers' lifestyles and to draw appropriate positive and negative consequences. Whether this is necessarily in the interests of the customers is controversial.
For use in industrial applications
There are also many possibilities for the use of wearables in industry. In this area, companies want to upgrade considerably in the next few years. They promise to provide a higher level of security for their employees, save time, and support employees in their tasks. In addition to intelligent glasses, intelligent clothing or mobile cameras, smartwatches also play a major role. Possible scenarios are:
An employee receives a message on his smartwatch when a machine is broken. So he can react promptly. If he needs help, he can® open a technical detail view or suitable evaluations on his Bluetooth-connected mobile phone or tablet by tapping on the Smartwatch display.
Assembly and maintenance technicians often work in a hazardous environment, such as in narrow tubes or shafts. A smartwatch that also monitors and transfers heart rate or other health data to a central location instantly identifies health problems. If the employee does not respond to contact attempts, rescue measures can be carried out quickly.
On the Smartwatch, warehouse employees receive a map of where the goods are located and which route is most efficient. This saves them from long searches and unnecessary long distances.
Of course, there is a risk that some companies may be using it to monitor employees, such as location. Therefore, it is necessary to find solutions for data protection and the observance of the rights of each employee without forgiving this promising technology.
This text is machine translated. About wearables The term wearables encompasses all kinds of computer technologies that can be carried on the body. Smart watches are part of it. See our guide to find out how they work and what models are avai...