Wireless access points: Connection point for wireless Internet access
How a WLAN access point works

Devices for business and home users

Purchase criteria for wireless access points

Our practical tip: Use multiple wireless access points

FAQ - Frequently asked questions about WLAN access points

Conclusion: Find the right models for every application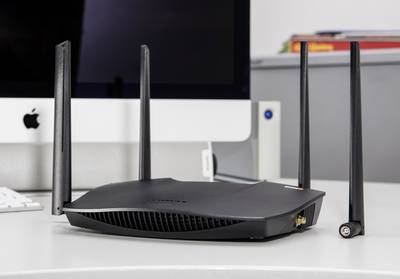 How a WLAN access point works
A WLAN access point serves as a central connection point for WLAN-enabled devices that are to be connected to the local network. With such a base station, you can provide users with wireless Internet access, extend your existing WLAN and/or increase the performance of the WLAN transfer rate. They can be used in your own home as well as in offices, in schools and health care or in industry.

This is how a WLAN access point works:
WLAN-enabled devices can connect to the access point (often abbreviated to AP) to access the local network or the Internet. The WLAN-AP is connected to the network via LAN cable and has its own WLAN.
If required, several APs can be set up to provide all users with comprehensive access. Old, used routers can also take over the function of an access point.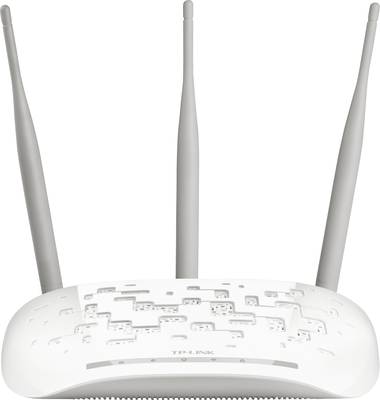 Devices for business and home users
The performance of the WLAN routers in private households can also be improved with a WLAN AP. Walls, doors, and even furnishings can weaken a router's wireless signal so you don't have a strong signal in all areas of the house. In this case, the router can be paired with another base station, so that you can surf the Internet quickly, securely and securely in the entire house – and if necessary.
By the way: Cheaper devices are often used in home use, which have few settings options. Professional business applications often offer additional features, such as centralized management of multiple wireless access points through a software package, or the ability to divide separate SSIDs into user groups and set up different levels of security. Special versions of wireless access points with weather-proof housings for outdoor use are also used in large companies.
All types of WLAN access points are usually managed via a web interface . This is usually easier to use for home-use devices, but provides more settings for experienced IT professionals for enterprise access points.
Purchase criteria for wireless access points
When purchasing a device, you should check in advance which features are important to you and how or where you want to install the device.

Transfer speed, WLAN standards and dual band:
One of the most important buying criteria is the transfer rate. Therefore, before you buy, check the maximum speed of data transmission of your chosen model, see the supported WLAN standards and see if the access point is compatible with your available products. Current WLAN standards are Wi-Fi 4 (IEEE802.11n) and Wi-Fi 5 (IEEE802.11ac) as well as its successor Wi-Fi 6 (formerly 802.11ax), which will continue to use the frequencies 2.4 GHz and 5 GHz.
| WLAN standard | Power |
| --- | --- |
| 802.11b | 11 MBit/s |
| 802.11g | 54 Mbit/s |
| 802.11g++ | 125 Mbit/s |
| 802.11n | 300 Mbit/s |
| 802.11ac | 867 MBit/s |
Many WLAN base stations use two different radio frequencies for data transmission. Choose a dual-band device and you can choose from the 2.4 GHz frequency range and 5 GHz range. Some wireless access points allow you to create different 2.4GHz or 5GHz SSIDs for different user groups. Practical: Some models automatically move currently used dual-band devices to the less crowded frequency band.
Design:
The design plays an important role, especially when the device has to be mounted in a visible place. Many access point devices are available with integrated antennas, but there are also models with two or more swiveling antennas. In our online shop you will find the right device for every need and taste in a compact size – some resemble smoke detectors, others are flat and square or compared with the classical form of WLAN routers.
Mounting:
The devices are supplied with power either via the mains adapter or via the network . If you do not have an available power outlet in the area in which the WLAN-AP is to be used, make sure that the selected model supports Power over Ethernet (often abbreviated to PoE) and can receive power over the network. This technology allows you more flexibility in the installation.
Most APs can be positioned as you would any router, but many vendors give you more options. Most of the models are designed for wall or ceiling mounting, outdoor versions are usually available with a special mounting kit for walls or posts.
Security and encryption:
To prevent outsiders from accessing your network without authorization, you should use secure encryption standards such as WPA or WPA2 . For larger user groups, special access controls, group and guest network settings are of interest.
Other features include
A web-based user interface that is as intuitive as possible is beneficial for all user groups. Setting options for access rights, LAN ports or connection options for wired devices such as printers, VLAN support or the allocation of network resources are useful for both business and home users. Outdoor versions also generally have a waterproof housing, some are equipped with an integrated lightning conductor. Also check how many clients a device is designed for, i.e. WLAN-enabled devices.
Our practical tip: Use multiple wireless access points
If you want to supply a larger area with a stable network, it is worth the grip to several access points that you pair with each other – even in the private area. WLAN access points from the same manufacturer are recommended for the most smooth installation and operation of the devices as well as for automatic selection of clients during relocation.
FAQ - Frequently asked questions about WLAN access points
How can multiple APs be managed?
You can configure each access point individually via a web-based user interface. A variety of devices can also be centrally managed through a management user interface. With some software solutions, you can view various information about the use or utilization of the individual models.
Do users need to manually connect their end devices to another WLAN base station when moving locations?
If the APs are configured accordingly, your terminal will switch to the next available AP at the new location. As a rule, you hardly notice the change, which happens without delay and interruption in the best case.
How many clients does a device support at the same time?
This depends on the selected model. If the access point is to be made available to many users, you should check for the corresponding information when purchasing. Some models support up to 50 clients at a time, while others are designed for 100 or more.
Conclusion: Find the right models for every application
If data is also to be sent over the connection via WLAN, modern devices that master the 802.11n or 802.11ac standard are preferable to older versions. The maximum transmission rate should also be observed so that the client devices with good performance can communicate with each other. If a large area needs to be covered reliably, several models can be coupled with each other. In this case, the antennas should also be interchangeable, so that you can choose more powerful ones if necessary, in order to maximize the WLAN range and optimize the connection.
Caution: All devices should be compatible with each other. In a professional environment, it is beneficial to have APs easily extensible and easily communicate with each other to ensure consistent management of all access points.
   Wireless access points: Connection point for wireless Internet access How a WLAN access point works Devices for business and home users Purchase criteria for wireless access points Our practical tip: Use mu...