This text is machine translated.
Installation wireless switching systems: Remote switching and control
Open, close, switch and control with the hand-held transmitter

How many channels do ich need?

Which transmission frequencies are used?

How safe are wireless control systems?
Open, close, switch and control with the hand-held transmitter
Installation wireless switching systems are designed for convenient, secure and tamper-free remote switching of electrical consumers. They consist of at least one transmitter and one receiver and are characterized by a practical range.
The devices or circuits to be controlled are connected to the relay outputs of the receiver. A push of a button on the transmitter is enough – and doors and lights and pumps turn on. Depending on the model, up to 32 transmitters can be programd per receiver.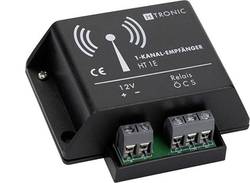 The application possibilities of professional radio switching systems are diverse and range from garage and courtyard drives, entrance gate and door openers and access systems, lamps and lighting, awnings, blinds and shutters to ventilation and ventilation systems, pump controls, air conditioning­ and irrigation systems as well as the control of electrical, hydraulic and pneumatic systems. Wireless control systems also allow remote opening and closing of inaccessible roof­ and hall windows.
Simple setup
For commissioning, the transmitter and receiver are synchronized once with each other. To do this, it is sufficient to activate the programming mode on the devices according to the enclosed operating instructions and to press the desired button on the hand-held transmitter – done! Commissioning of systems with DIP switches is not so easy. With these devices, you can tune the transmitter and receiver via mini switch in the housing to one another.
Unlike mobile smart plugs, i.e. radio link plugs that you attach between the socket and the device, for example a floor lamp, the receivers of installation radio switch systems are intended for permanent mounting. Depending on the model and task, the specialists for remote switching can be installed in connection and distribution boxes or on DIN rails of control cabinets and safety cabinets. Some models support a selectable supply voltage from 12 V DC to 24 V AC and 230 V AC. If you want to use receivers outdoors, a model with a waterproof housing is required.
How many channels do ich need?
Depending on the number of channels, how many different circuits and thus devices or systems you can control independantly of each other depends on the number of channels. Rule of thumb: A separate channel is required for each circle – for example lamps or lamp group, socket group, well, gate or awning. You can use a channel to switch a relay and thus a single device or a device group.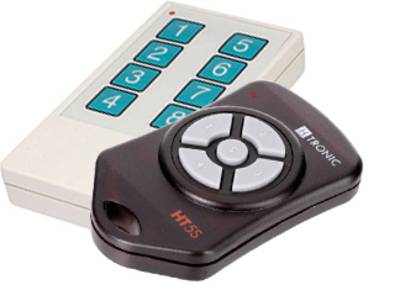 Usually, receivers allow individual control of the channels, but some models also support synchronous control of all channels.
For example, if your new wireless system is to open and close the garage door, an installation radio system with a single channel is sufficient. If three doors with separate motors are to be connected independantly in a larger garage, you need a receiver with at least three radio channels. Thus, each of the three gates can be opened and closed independantly of the other two.
Usually, there are three vehicles with three gates, each with a remote control. As a hand-held transmitter, two variants are therefore considered for the garage example with three doors:
Option 1: One 1-channel hand-held transmitter for each gate. Three hand-held transmitters are required for three vehicles. Thus, any authorized person can remotely control the gate assigned to him.
Option 2: A hand-held transmitter with at least three channels. Three hand-held transmitters are required for three vehicles. In order for each authorized person to operate only the gate assigned to him, only one channel is programd in the transmitters. However, this solution is particularly flexible: If someone rents two of the garage spaces, his 3-channel hand-held transmitter can be easily programd so that both doors can be operated individually or together from one transmitter.
Our practice tip
For cleaning staff or the owner of the garage, an additional hand-held transmitter with at least 3 channels is recommended, in which all three channels are set to the individual gates. This allows all three garage doors to be opened and closed via a remote control, for example for cleaning and control purposes or in case of an emergency.
Which transmission frequencies are used?
Radio systems for installation use RF frequencies without a license. Depending on the model, they use radio channels at 433 MHz or 868 MHz . The 433 MHz frequency range is more frequent because a large number of devices transmit a lot of power. In accordance with the guidelines of the Federal Network Agency, the frequency range around 868 MHz must only be used with limited transmission power and only for a short period of time. This is why lower interference from transmitters in the vicinity is to be expected. On some models, the working frequency can be adjusted to suit individual requirements. Radio systems with bi-directional transmission offer optical feedback at the transmitter on request.
Switching and pushbutton function
Many receivers allow the control of connected devices or systems either by means of switch or button function. This makes the systems particularly versatile. In switch mode, the receiver functions as a permanent switch and thus as a conventional wall switch, in which you switch a light on or off by changing the rocker. In the button mode ("toggle mode"), the receiver passes on a short switching impulse, as you know it from light switches in larger stairwells. The respective relay is therefore only activated as long as the transmission button is pressed. Some models also have a timer function that allows you to set how long the relay on the transmitter should be switched on.
What is the radio range?
Radio control systems for fixed installation are available with different range. Depending on the model, this is between 30 and 1,000 meters wide and is indicated in the respective product description.
The range always refers to optimum conditions with free view without interference . Electromagnetic fields, motors, other transmitters or obstacles such as reinforced concrete, walls, iron fences, glass and similar materials can affect the range in individual cases. The range typically achievable within buildings is therefore below the specified maximum range.

The range can also be reduced when the radio receiver is installed in a metal cabinet. In this case, you can use a flexible external antenna that is available for some radio switching systems.
Wireless switching systems with a long range are not only useful for remote switching to a longer distance, for example, to operate a remote courtyard gate. Models with a long range can also be practical for reliable switching operations at short distances because of their higher transmission power. They can be used if no remote control is possible due to structural conditions or disturbances with short distance systems.
Our practical tip: Check range
The maximum range of radio systems at the planned installation location may be affected by obstacles such as concrete walls, ceilings or other electrical devices. In such cases, it is usually already helpful to change the location of the radio receiver a little, in order to keep interference low or to avoid it altogether. To determine the optimum installation position, it is advisable to test the range in several places during receiver test operation before a fixed installation. If you have determined the best possible position, attach the receiver.
How safe are wireless control systems?
Installation wireless switching systems are usually professional devices with safety functions for protection against manipulation . This ensures that unauthorized persons, for example, cannot open the gate or the garage door. Manufacturers of wireless switching systems rely on various safety procedures, such as coded transmission signals that modulate according to a specific key. Higher security devices use encrypted signal transmission in conjunction with the rolling code process. It makes every signal packet sent from the transmitter to the receiver unique and not repeatable.
Because each supplier uses an individual protection method, only the transmitter and receiver of a manufacturer and from a model series are compatible with each other.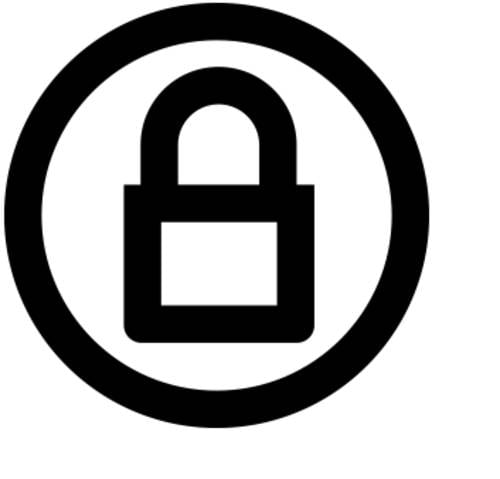 Our practical tip: Consider expandability
Once you have become accustomed to the operating comfort of your new wireless switching system, experience shows that you can quickly find further areas of application. Therefore, it is recommended to consider later expansion options in the form of additional channels when purchasing an installation radio switching solution. Simply plan one or two spare channels that you can easily use for new applications.
This text is machine translated.     Installation wireless switching systems: Remote switching and control Open, close, switch and control with the hand-held transmitter How many channels do ich need? Which transmissio...