This text is machine translated.
About wireless bells and radio bells
Wireless bells and radio bells are ringing, in which the transmitter and the receiving station are connected to speakers not via fixed lines, but via radio. In our shop you will find a large selection of radio bells. The following guide explains which functions are particularly practical and what was to be taken into account when selecting.
How does a wireless bell work?

Advantages of a wireless doorbell

Our practical tip: Low installation effort
Convenient multiple assignments for wireless bell sets

Find the right wireless bell

FAQ - Frequently Asked Questions about Radio Binging
How does a wireless bell work?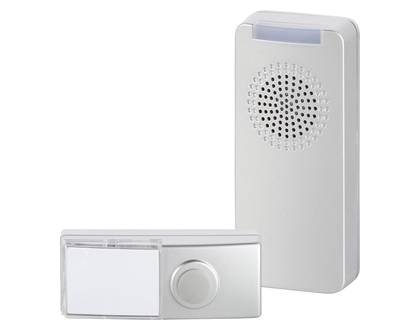 Like normal doorbells, radio bells give a sign when someone presses the button. However, the signal is not transmitted via fixed lines, but via radio. This means that these bells can be positioned freely and commissioning is carried out with little effort. Wireless bells are suitable, if no fixed installation is to take place on a wall, for mobile use or for various purposes within buildings and outdoor installations, for example as additional bell at garden gates and one-way flats or as service bell in hotels, apartment systems and restaurants as well as as as emergency bells for seniors.
Radio bells consist of a transmitter, which is usually placed in front of the front door and the corresponding receiver, which emits the bell signal within the range inside. This way you do not miss a visit: As soon as the bell button is pressed at the transmitter, a radio signal is sent to the receiver, which emits a sound, an optical signal or both. The mobile transmission of the signal between transmitter and receiver results in a variety of possible uses for radio bells, which extend far beyond the standard function as a wireless doorbell.
Advantages of a wireless doorbell
Simple installation by mounting without laying cables and usually without drilling
Simple retrofitting as a bell in one-lying apartments, in the attic and on garden gates
The bell can be easily carried when moving
Mobile use as service or emergency bell partly with belt loop holder
In most cases, several melodies and volumes can be set for the ring tone
Distance extension by signal amplifier
Outdoor ranges of up to 500 meters are possible
Partly as radio doorbell set with other devices such as intercom, door opener and camera
Our practical tip: Low installation effort
Equipped with a high-quality wireless doorbell, you do not need to lay cables or drill holes for installation. This saves a lot of effort and is of interest to tenants who would have to obtain the permission of the owner in advance for such interventions in the building structure. Even for owners, the purchase of radio bells is worthwhile in the modernization of bell systems due to the low installation effort.
Convenient multiple assignments for wireless bell sets
The simple installation simplifies the extension of wireless doorbell sets with additional devices. In many radio bell systems, several transmitters can be assigned to a receiver.Functions for call differentiation make it possible to trace which of the transmitters was activated by different ring tones. So, for example, whether the visit is still at the garden gate or just in front of the apartment door.
The other way round, it is also possible to register a transmitter with several receivers with speakers so that the bell signal sounds at different places. For example, in remote parts of the property such as a garage or an annex, you can be alerted to the arrival of a visit. For mobile applications, multiple receiver assignment is useful, for example, where several people are to respond to the ringing event at the same time, for example, in the case of an emergency bell.
Tip: Some manufacturers offer complete systems with various wireless applications for the smart home area, including wireless door bells, for example, wireless door entry systems and surveillance cameras. When selecting a wireless doorbell, make sure that it is compatible with other devices if you plan to expand it later.
Find the right wireless bell
In the filters in our shop you can make a pre-selection of criteria for your radio bell. The models differ in their range of functions. Some important criteria are presented in the advisory:
The range
The range of the new wireless bell plays an important role. It should be noted that manufacturers measure ranges "in the open field" without obstacles. Set the range as high as possible, because steel beams, walls and even small plantings reduce the range of radio waves. Distance multiplier circuits extend the radio signals and thus the operating radius of wireless gongs.
Our tip: All obstacles affect the radio signal. This includes walls as well as furniture and even small shrubs. Therefore, the range of a wireless chime should be selected as high as possible from the start!
Wireless transmitter: Key versions for indoor and outdoor use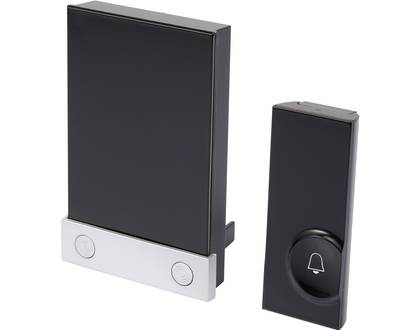 The transmitter is the part of the bell that is activated by the guest, and the receiver sounds the bell signal. If the transmitter is to be installed outdoors, a weather-resistant model, i.e. temperature-insensitive and waterproof, is attached.
Bell plate illumination and labeling options for name plates are also essential for wireless door bells. Some wireless door bells for outdoor areas have light sensors that activate the automatic night light only when it is dark and thus save power.
In addition to the standard version as door bell, there are various versions for the wireless chime buttons. If you regularly expect local guests, the shutter should be as eye-catching as possible or highlighted by separate decoration such as LED lighting. In some application scenarios, the conscious decision to choose a discreet or even hidden bell button makes sense, for example in case of emergency bells in jewelry shops and other cash registers.
Important features for recipients
Radio receivers are the base station of a radio bell, usually with integrated loudspeaker for the output of different ring tones. Many wireless rings have several ring tones to choose from, so you can set an effective signal to your personal taste. The volume can also be adjusted.
Additional lighting functions as an alarm signal are good for hearing impaired people as an alternative perception channel. For some wireless rings, the optical signal also indicates missed calls, i.e. when someone rings without being answered, just like an answering machine, which must be actively reset after being told.
Caution: Not all rings have a convenient mute function. In some applications, this impossibility of deactivating the signal is advantageous, so that seniors, for example, cannot turn off the bell unintentionally. However, if you occasionally want to have your peace of mind, a mute button is a practical alternative to pulling the plug or removing the battery.
Desk holder for the bell with visual and acoustic signal
Most wireless bells receive their power from batteries. A built-in battery level indicator for mobile transmitters and receivers (for example, as LED indicator lights) is handy for this, which indicates when batteries are low and replacement should be made.
Note: Some battery-powered models do not come with batteries and should be ordered separately.
There are also models in which the receiver is permanently supplied with power via a power supply unit at a socket or radio bells with USB connection, which receive their operating current from the connected computer, which also takes over the loudspeaker output.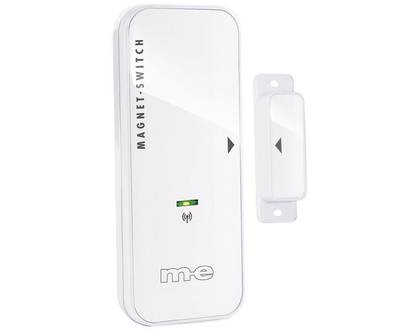 In addition to the conventional radio buttons on bells, there are also other trigger mechanisms for the gong.
Door and window contacts are often used as a shop bell or as a way-out protection in senior citizens' residences. These models usually work with magnets and then send a signal to the receiver when the contact is disconnected at a door or window because it has been opened by someone.
Entry detectors send the bell signal to the receiver for acoustic output when they register movements in a specified range. This function can be realized technically either mechanically via door locks or optically via radio motion detectors.
Many motion detectors on radio bells have the main aim of saving energy: They activate the full range of functions of the radio doorbell only when a potential actuator approaches the bell push.
FAQ - Frequently Asked Questions about Radio Binging
What should the range of my wireless bell be?
On average, the range of modern radio bells is about 100 meters. The optimal range of your wireless doorbell depends on your intended use. Manufacturer's specifications for the ranges refer to the range in the open field. This means that it is a maximum distance that you will hardly reach in the practical use of wireless gongs. Every obstacle, such as furniture, shrubs, etc. and other wireless networks, distracts radio waves and shortens the range. Especially walls inhibit the radio signal. Therefore, it is better to select a radio bell with a range that can travel a multiple of the distance you have planned to transmit the signal, or consider the use of signal amplifiers, especially if you want to operate the receiver in shielded areas, such as in basements.
Frequency problems: Why am I ringing even though there is no trigger?
If your wireless bell rings even though no one has pressed the button on the ring sign, you may have to deal with a problem with overlapping frequencies. Then your receiver rings because of a signal from another radio network, for example from a neighboring bell system or because someone permits a trick. Try moving your bell to a different frequency range. Radio gongs with encrypted signal or unique IP recognition between transmitter and receiver are less susceptible to interference.
Does a wireless doorbell automatically open the door?
No, the wireless bell only emits a signal when someone presses the doorbell button. Then you have to walk to the door yourself, if you have not connected the radio bell to an electric door opener via a relay. You can also find electric door openers with us.
This text is machine translated. About wireless bells and radio bells Wireless bells and radio bells are ringing, in which the transmitter and the receiving station are connected to speakers not via fixed lines, but via radio. In our shop you...