Wireless Indoor Intercoms
This text is machine translated.
Intercom systems: Convenient intercom system with good range
It does not always have to be a full-fledged door intercom or a house phone. You can also talk to each other free of charge with an intercom connected by radio or WLAN. The mobile devices are characterized by a quick start-up and versatile usage possibilities as an intercom system, radio device, employee call, baby phone and replacement for calls via telephones and smartphones.
What was an intercom system?

What was the benefit of an intercom?

What was the equivalent of camera intercom systems?

Important features of an intercom system
What was an intercom system?
An intercom system is a particularly flexible and versatile form of an intercom system, with which two or more people can communicate with each other from room to room or house to house.
The multifunctional table and wall devices are usually based on radio technology and do not require fixed cabling. They deal with structural changes such as slot work, cable connection and agreements with the landlord of rental properties. Depending on the model, the range is up to 2000 meters. This is sufficient for large buildings, production halls and workshops.
The hands-free radio systems are intended not only for chatting at home and in the office. You can make announcements and listen to rooms . As a mobile employee telephone and for communicating with neighbors or colleagues in remote parts of the building, the devices provide valuable services. Thanks to the hands-free function (VOX), intercom systems are also suitable for acoustic monitoring of production rooms, machines and agricultural equipment . In the private area, an intercom system helps with the monitoring of the patient and as baby phones.
Even a bell is included. Pressing the bell button triggers a ring tone at the remote station. The ringtones of the bell, which can be set in volume and partly also in the melody, can replace a bell system or a ringing signal or simply bring your radio partner to the device.
In addition to audio intercoms, systems with a camera are available for video transmission in which the interlocutors see themselves in the picture. Rechargeable battery packs are available for mobile use away from a socket.
What was the benefit of an intercom?
The big plus point of an intercom compared to other intercom systems is the fast installation, the easy operation and the mobility. Intercom systems consist of at least two devices. The most comfortable way to start is with a complete set consisting of two or more identical models.
After unpacking, setting up, plugging in and switching on the radio sets are immediately ready for use . In contrast to a classic door entry system, you do not need to lay any cables inside the building for your new intercom system . Also a fixed mounting is not necessary. Simply place the intercom at the intended location, for example a work desk, at the reception desk or on a shelf. A spontaneous change of location is possible at any time . It is sufficient to unplug the power cable at the previous location and plug it in again at the new location.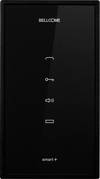 Good to know
The call transmission is independant of the door intercom system. Thus, there is no interaction with door entry devices and you do not need to pay attention to the respective make.
The speakers usually offer several radio channels that you can set on the housing. By using different frequencies, you prevent another device on the same channel from interfering with your reception. In addition, you have the option of using several radio intercom systems on different channels at the same time.
Compared to PMR radios and walkie-talkies, intercom systems are characterized by their larger housing. It offers more easily accessible switches and thus a better overall feel and handling .
What was the equivalent of camera intercom systems?
Modern intercom systems are often equipped with a camera and WLAN interface or mobile phone module for connecting and controlling via smartphone. In addition to voice signals, they also transmit a video image . The video signal can be used to reliably identify the person seeking admission to front doors or building doors, such as family members, employees, suppliers or parcel carriers. Uninvited visitors or even fraudsters deny access.
The motion picture devices are suitable for private households and companies. The solutions with video support you in the commercial sector in addition to the intake control, for example in the monitoring of machines, technical systems and measuring devices. In the private context, an intercom system with video helps children and health care as well as monitoring pets. Models with night vision are equipped with integrated infrared lighting. Night vision provides a recognizable image even in absolute darkness.
The camera of the intercom sends the image via your WLAN and the WLAN router or the mobile network to a smartphone app on your smartphone or a PC with monitor. Push notification, mail, or alarm call alerts you when the call button is pressed or the camera detects movement. You can then talk to the visitor or the person you are looking after via your smartphone, even if you are not in the house or on site. In addition, many video intercom systems store image and sound on a memory card or store the data on an online memory.
In combination with a door intercom, door opener or alarm system, a intercom with camera can improve comfort and security. Use the video image to check who is at the input. If everything is OK, press the door opener or the entry button on the door intercom. Some devices are also designed to work with smart home solutions. The video intercom then communicates with the system's control panel and becomes part of the smart home.
Important features of an intercom system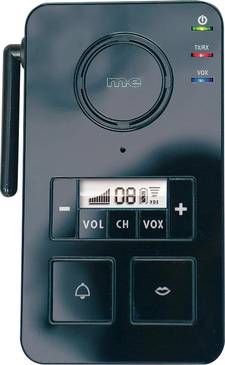 Depending on the radio range, it depends on the distance your new intercom system can bridge. The maximum value indicated for the radio is valid at clear sight and can be several kilometers. Obstacles and structural conditions reduce the range in practice.
The product description also indicates how many radio channels you can set on the device. The more channels are available, the easier it is to correct any interference caused by neighboring radio systems.
Models with WLAN communication link to the wireless home network or business WLAN and require a connection to an access point or WLAN router. Intercom systems with integrated mobile phone module require a SIM card.
Many radio intercom systems use half-duplex technology and are therefore technically speaking intercom systems. Unlike a phone, reception is locked while you are talking. Full duplex models transmit in both directions. You can speak at the same time and also hear the other person.
The most flexible models are models, which are equipped with a power supply for connecting to the mains and can also be supplied with power via integrated or optional batteries.
If the device is equipped with a headphone socket or a loudspeaker connection, you can then use a headset to communicate in loud surroundings or an active box. The loudspeaker is recommended for use as a call system in workshops and halls.
An important product feature is VOX function for hands-free operation with adjustable sensitivity. As long as you have activated VOX, the device will hear into the room. If the microphone registers a sound, such as a person's voice, the alarm tone of a system, baby crying or animal loud, the device automatically begins to send. If no noise is detected, the transmission stops. As many sensitivity levels as possible permit a precise adjustment of the VOX hands-free system to your requirements.
This text is machine translated. Intercom systems: Convenient intercom system with good range It does not always have to be a full-fledged door intercom or a house phone. You can also talk to each other free of charge with an intercom connect...