All information about the new brand identity
Conrad has repositioned itself as a sourcing platform. Today, as a solution provider, we offer all the parts for the successful procurement of technical needs. This positioning is now clearly expressed through our newly designed brand identity. Here you will find everything you need to know about our rebranding.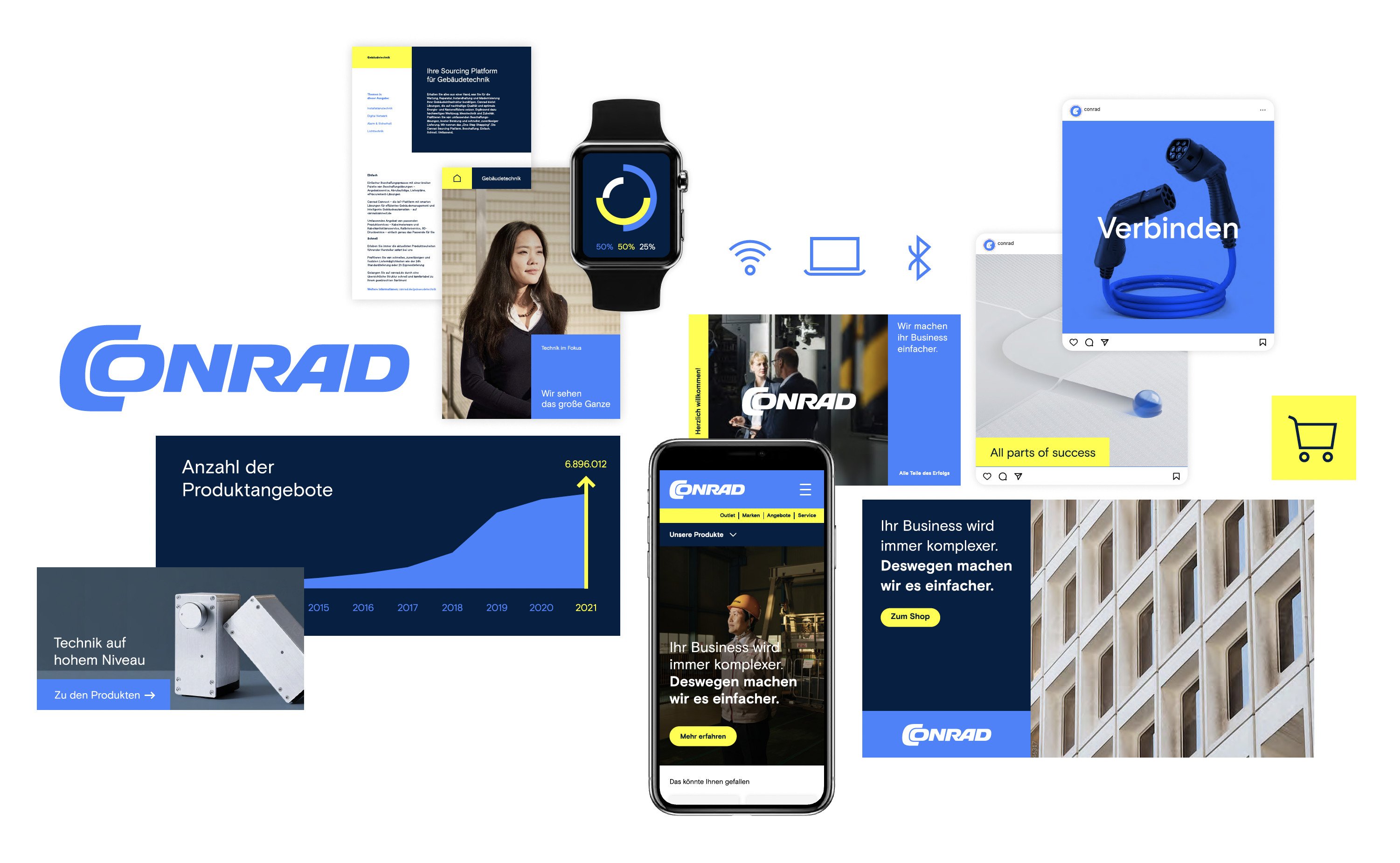 Our brand has transformed: Ready for the next century
For 100 years, we've helped our customers write their success stories by providing them with the best components and technical products available. To keep it that way for the next 100 years, Conrad today has much more to offer than technical products. On our way to becoming the leading procurement platform for technical needs, we enable customers all over Europe to get exactly what makes their projects or business a success: A high-quality assortment with millions of products, customer-centric solutions and services as well as expert advice from person to person.
These are the parts for your successful procurement and this is exactly what is expressed by our new claim "All parts of success" as the core message of our brand story. Together with the new brand design, this results in a uniform and unmistakable brand presence.
Why a redesign?
Conrad is transforming itself from a technology shop for B2C customers to a procurement platform for technical needs with a focus on B2B customers. This new positioning is visible and tangible through the new brand identity.
What's changing?
The new brand design takes up the adaptability of the company and forms a design system that was developed according to the principle of "digital first" and flexibly adapts to all application purposes. For this purpose, the Conrad blue was changed in such a way that it fully plays to its strengths in digital media. This is complemented by a dark blue that stands for trustworthiness and professionalism and, together with the fresher yellow, forms a brand-defining colour triad. A font specially designed for Conrad with a clear, modern character increases legibility in all sizes and applications, especially in small digital formats. The imagery is given a high-quality, authentic look by focusing on the essentials. The brand presence is rounded off by the new claim "All parts of success" as the communicative bracket of our brand story.
What stays the same?
The Conrad blue and Conrad yellow are still important primary colours that shape the look. The logo also remains unchanged as a visual anchor for maximum recognition. However, it is now only used in monochrome blue or white.
When will the design change take place?
Conrad will present itself in a uniform, unmistakable look across all media from January 2023. The rebranding was first presented on 14 November 2022 with the new trade fair stand at Electronica in Munich. The main changeover of the most important media such as webshop, newsletter, social media and print measures will take place from 9 January 2023, followed by gradual changes to other media and applications.
What does the new claim "All parts of success" mean?
The new claim expresses the fact that we contribute decisively to the economic success of our customers. The "parts of success" are a large product range with over 7 million products, customer-centric solutions (e.g. e-procurement) and services as well as the human factor through personal advice and support from the Key Account Management and Customer Care teams.
Why Conrad offers all the parts of success
We have optimised our offering to meet the modern challenges of sourcing technical supplies by using customised e-procurement solutions to simplify complex procurement processes and help companies of all sizes and in all industries save time and money. As sellers on the Conrad Marketplace, manufacturers and distributors can reach new target groups and markets quickly and easily. Private customers also benefit from professional product offers and services. As an attractive partner, we offer all the parts for more economic success.

What the Conrad brand will stand for in the future
Conrad always acts between technological value creation and human appreciation. We are resourceful and always find the right solution for our customers. We think entrepreneurially and make the procurement of technical needs even more economical for our business customers. We act proactively and propose sensible alternatives or improvements. We act mindfully and, as a family business, stand for quality, reliability, long-term partnerships and the sustainable and careful use of resources.