DIY & Tools
Are you looking for robust tools? At Conrad you will find the right tool for all your work. In addition to tools from the well-known brands, we also offer a complete line of tools of our own, which are of the same quality as the renowned names. For freelancers and multinationals as well as the real hobbyist, we have a wide choice of tools. In addition, we offer our business customers numerous attractive advantages.
Useful information about tools and workshop equipment: Professional equipment for professionals
This way you can find the right tool for your needs

What distinguishes good tools?

Buy tools individually or in a set?

Create order at work and on the move

How can you mark the tool?

Preservation of value through maintenance of tools and machines

Good working clothes create safety and avoid accidents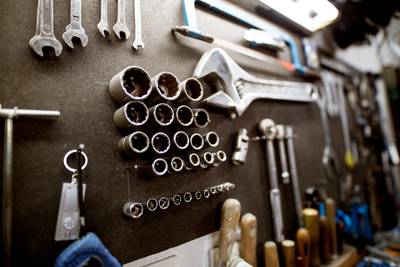 High-quality tool ensures good work results. A workplace equipped with professional tools, suitable machines and powerful electrical appliances is gold value. With professional equipment plus accessories, the daily work is much easier and more enjoyable.
Tools tailored to the respective work pieces and tasks ensure fast progress, save power and prevent accidents . Good equipment at a fair price promotes a smooth workflow, increases productivity and reduces costs. You benefit from high service life and highest precision. Material damage is also avoided.
Depending on the sector, work environment, task and personal preferences, the equipment requirements can range from a well-sorted tool box to a top-equipped workshop with machines, power tools and consumables. As a specialist for good tools and professional workshop equipment, Conrad supports you with new purchases and the targeted expansion of your tool equipment.
In addition to professional tools, machines and e-equipment, our shop offers a wide range of mounting and fixing materials, cleaning and working equipment as well as tool storage systems.
This way you can find the right tool for your needs
If you want to equip workplaces, workshops, service vehicles, craftsmen or fitters with tools tailored to your industry and your requirements, this is not a big deal with the comprehensive Conrad product range. Here you will find everything you need for this – from a screwdriver and torque wrench to special tools and to the complete workshop equipment.
Hand Tools
From screwdrivers to hammers in different sizes to hand drills, pocket knives and well-assorted small tool sets, craftsmen find an extensive range in the Conrad online shop. Allen keys, pliers, ratchets and handsaws are also a practical hand tool that should not be missing in any tool bag.
Power Tools
Cordless drills and screwdrivers, cutters and planers, electric saws, but also laser cutters and hot glue guns are among the huge range of electrical tools. Craftsmen, companies and DIY enthusiasts will find grinding machines, angle cutters, tackers and multi-purpose tools. Conrad offers suitable accessories such as drills, abrasives and rechargeable batteries in common and also in rarely required versions.
Heavy Equipment
Construction machinery and construction equipment include tools for new construction projects, excavation and repair work as well as demolition tasks. Here you will find compact concrete vibrators for compacting cast concrete as well as high-quality stone separation machines. These are ideal for cutting stone and concrete, bricks and tiles with high performance and diamond cutting discs – the construction machines and construction equipment are available in different sizes.
Diagostics Tools
Calibrated measuring instruments are useful where it is measured in millimeters or a fraction of a gram. At Conrad you will find measuring tapes, measuring sliders and spirit levels as well as special measuring devices such as angle gauges, ultrasonic distance meters, measuring clocks and positioning devices.
Mounting and mounting material
Dowels and fittings are also covered in this category such as rivets, bolts, pins, threaded rods, screws and nuts, as well as insulating material, castors for mobile racks and similar small requirements.
Garden Tools
At Conrad gardeners and landscape builders will find a wide range of products for lawn, tree and hedge care as well as for the surrounding area. The range of tools ranges from lawn mowers in many designs, garden hand tools, spreader systems to irrigation systems.
Welding and soldering
State-of-the-art welding technology permanently combines materials using heat and pressure. Plasma welding machines with high-temperature gas, welding burners with protective gas and wire feed devices for MIG/MAG welding or welding electrode are common in the car workshop, construction and metal processing.
Workshop requirements
Often the obvious is forgotten, this does not happen to you at Conrad: Practical like cable drums, ladders and scaffolding or even stable and sufficiently large bins belong to a workshop as well as tools and machines themselves
What distinguishes good tools?
Pay attention to quality when buying tools and machines. High-quality branded products are precision instruments that are characterized by robust, durable and safe material combinations. They are anti-slip, do not deform easily and also stick a coarser treatment away without damage. The tool fits well in the hand, protects the health and promotes the work flow.
A sign of good quality is given. These include not only the GS seal for "tested safety", TUV or Dekra awards and calibration marks, but also compliance with European standards and specific manufacturer specifications. Also observe factory calibrations and specifications for accuracy, durability and tolerances.
The investment in good brand products is also worthwhile from an economic point of view. High-quality tools and equipment points through low wear. They are less likely to take advantage of them. They are also easier to maintain and maintain.
In the case of branded tools from well-known manufacturers, you usually benefit from very good services . The supply of required wear and spare parts is usually ensured for years with these tools. If something breaks down, a quick repair is possible at the manufacturer. Recalibration of devices is also often offered.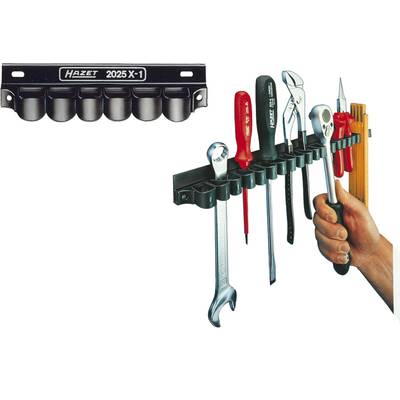 Buy tools individually or in a set?
Tool sets consist of several components, such as screwdrivers, wrenches or bits in different sizes and shapes. In the set, tools are usually cheaper than individual tools. Plus, with just one purchase, you have everything you need to do your job.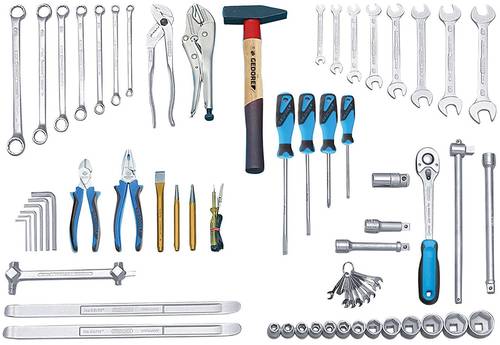 Another plus point: The components in tool sets and machine sets are perfectly matched by the manufacturer. So you can be sure that all accessories fit together and don't have to worry about selecting individual tools. A practical case or a transport case is often included in the delivery, which well packs the tools and devices together with the extras. Disadvantage of tool sets: They can also contain parts that are not used later.
By buying tools individually, you only buy what you really need . Tool sizes or accessories that are not relevant for your work area do not end up in your inventory at all. This keeps the work equipment clear and protects your budget . In the case of an individual purchase, you can purchase various tools, machines and compatible accessories from different brands and decide exactly which products you prefer. In addition to task-specific basic equipment, you can simply expand your tool equipment as needed, and distribute the costs over a longer period of time.
Create order at work and on the move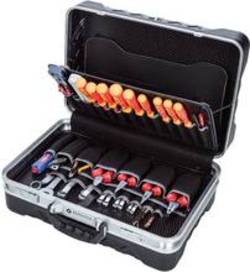 Tools and devices should be arranged, centrally and easily accessible at the workplace. It is recommended that the tools be arranged separately according to types and that the machines and accessories are kept within easy reach. This saves you time and avoids unnecessary searching . Conrad offers space-saving work desks, workbenches, storage systems and solutions for the warehouse, which can be configured to your requirements in terms of size and equipment.
The storage is done well arranged in variable hanging systems and at toolbars, in scalable shelves or spacious tool cabinets. For mobile use, you can choose between rolling workshop trolleys, luggage systems, tool bags, transport boxes and tool belts.
How can you mark the tool?
In the workshop, on construction sites and in the craft sector, tools and equipment are often used or borrowed together with colleagues. Marking your tools and machines with a personal marking ensures that your equipment is always recognizable as your property and that you can easily recognize your equipment. A highly visible, permanent and not easily removable marking of your equipment reduces the risk of theft . A good marking is durable and resistant, does not damage the marked objects or impair their use.
A marking by means of a water-resistant pen can be applied in seconds, but it can be used quickly in everyday life and often becomes unreadable after a short time.
An easy and fast marking option enables waterproof tool stickers as well as labels with your company logo and the name of your company. Ensure strong adhesion and a weatherproof surface.
For permanent labeling, a laser engraving and stamping with letters and numbers are recommended. The advantage of the impact stamps: Impact stamps, indented letters and indented numbers create visible and noticeable recessed markings on wooden handles and metal parts that can only be removed with great effort.
If, in addition to equipment made of iron, steel, non-ferrous metal and wood, tools and machine housings made of plastic, glass, stone or ceramic are to be personalized, a engraver will help . The rotating pin of the electronic recorder generates any desired lettering with a selectable thickness.
Preservation of value through maintenance of tools and machines
When you use your equipment, it is inevitable that dirt and wear will occur. The maintenance and maintenance of implements, machines and workshop equipment keeps implements in good working order for the long term. Regular cleaning, maintenance and lubrication with suitable means is an important prerequisite for the constant readiness for use, trouble-free machine operation and clean and error-free production, just like in the car.
Tool maintenance helps to maintain value and prevents interruptions due to faults and expensive downtimes. The maintenance work takes only a short time, prevents a creeping reduction in quality and performance and prevents accidents .
The maintenance frequency is mainly determined by the mechanical stress. Clean dirty products as soon as possible after use. Any rust spots can be removed in the workshop using fine sandpaper or emery cloth. Pay special attention to parts that must be lubricated or oiled regularly. Use the lubricants recommended for the respective device, such as oils, greases or silicone spray. Replace wearing parts in good time. Important: Replace damaged tools with new ones immediately.
Good working clothes create safety and avoid accidents
The right tool and machine park also includes the appropriate work safety clothing and personal safety equipment. Suitable protective clothing tailored to the carrier effectively protects the carrier against the hazards at work . This applies to sheet metal work on the car or another vehicle as well as in the joinery, in series production, on the construction site, in the use of craftsmen and in the own workshop.
Activities in work areas where the risk of injury is increased place special demands on work clothing. Typical hazards at work are sharp objects, open flames, heat, cold, moisture, noise, dust, vapors, chemical substances or mechanical stress caused by pressure or friction.
Good working clothes protect the wearer from external influences and support him in his work. Professional protective clothing is characterized by a good fit, high wearing comfort and a lot of freedom of movement. From work gloves to respiratory protection, eye protection, hearing protection and skin protection, the Conrad range contains everything you need for a complete individual protection equipment. Certifications relevant to the respective industrial and craft sectors in accordance with European DIN and EN standards help you to select and comply with legal or sector-specific requirements. Observe the regulations of the professional associations, employers' associations and professional associations that apply to you.
Must-Haves for every craftsman
But not only in the toolbox of an electrician belongs to different equipment, but also janitors or installers need many small helpers! Find out what your top 10 tools should include in our guide!
Basic equipment for electricians

All about maintenance plans
Our most popular tool and workshop guides
| | Guide | Area |
| --- | --- | --- |
| 1 | Screws (metric) | Mounting & mounting materials |
| 2 | Soldering iron | Welding & Soldering |
| 3 | Soldering Stations | Welding & Soldering |
| 4 | Laser & ultrasonic range finder | Welding & Soldering |
| 5 | Workbenches | Garage & Workshop Supplies |
| 6 | Caliper | Diagostics Tools |
| 7 | Taps & Dies | Hand Tools |
| 8 | Work shoes | Workplace Safety |
| 9 | Soldering Wire | Welding & Soldering |
| 10 | Crimping pliers | Hand Tools |
| 11 | Compressed air compressors | Power Tools |
| 12 | Dowels | Mounting & mounting materials |
| 13 | Tool Cases | Tool Storage |
| 14 | Multitool Pocket Knives | Hand Tools |
| 15 | Welding Devices | Welding & Soldering |
Useful information about tools and workshop equipment: Professional equipment for professionals This way you can find the right tool for your needs What distinguishes good tools? Buy tools individually or in a set? Create order at work and on the move How can you mark ...