Stay on Top of Things? Testers for Buildings That Won't Let You Down.
Professional building management and facility administration are at the heart of ensuring smooth manufacturing processes and building operations. This involves topical issues such as energy consumption, bringing down heating costs, building surveys, climate control as wells as the maintenance and repair of buildings and machinery.
Regular accurate testing of electrical appliances, production plant and components is crucial in this respect.

When it comes to meeting these strict requirements, we are a partner you can trust. We supply a range of testing and diagnostics equipment, analysers, environmental testers and energy meters, including thermal imagers that detect energy loss, and instruments fitted to switchboards.

Established brands such as Testo and Voltcraft ensure quality.
Alternative content:
Our range of Building Management products comprises
testing and diagnostics equipment, analysers, environmental testers and energy meters

thermal imagers designed to detect energy loss

panel meters to be installed in switchboard cabinets etc.
Air leaking from pneumatic systems is responsible for 40 percent of the losses related to this form of energy. Across the planet, lost revenue caused by downtime as a result of low pressure amounts to billions of dollars. Previous methods used to detect air leakage across the industry sectors tended to be complicate and time-consuming, and also required special training. The main drawback was that machinery needed to be shut down to carry out the inspections which lowered productivity and incurred costs. The good news is that there is now a much better way to do it. Behold the future of leak detection, everybody.

Fluke's portable ii900 acoustic camera comes with an array of microphones that results in covering a larger area and helps MRO engineers pinpoint air, gas and vacuum leaks quickly and accurately, and this in scenarios where the noise levels are sky-high. SoundSight™ technology has been specifically designed for these types of industrial environments, and is easy to use. The camera has a 7" (17.8 cm) LC touchscreen display that superimposes a SoundMap™ pattern (sort of an "acoustic image") on a normal image, showing the precises location of the air leak right away. The simplified and highly intuitive user interface allows identifying the characteristic noise generated by a leak while suppressing all surrounding background noise. As a result, engineering teams can check a complete production hall in just a few hours – with all equipment running at full capacity. Means you can spot easily what needs to be fixed, an where which, in turn, boosts efficiency levels and saves you money on utility bills. Moreover, the images can be saved and exported for reporting purposes. Also means there's no longer a reason for ignoring air leaks.


Fluke CAT III Testers

Find the Fluke digital multimeter that meets your needs.
Because digital multimeters are used in a wide variety of tasks in industry in trade, it's important that you choose the right product.
Flir's MR277 moisture meter help engineers localise dampness quickly.

Identifying damp patches in buildings usually requires several pieces of equipment, including a moisture meter, a psychrometer and a thermal imager. The MR277 is the first tester that combines the benefits of Infrared Guided Measurement (IGM), our patented Mult-spectral Dynamic Imaging (MSX) and a set of state-of-the-art environmental sensors, to enable fast detection, clear assessment and comprehensive documentation of any dampness issues. Built-in IGM technology and a laser pointer allow isolating the affected area. Afterwards, select the built-in non-contact probe for non-invasive testing, or use the external test pin for invasive testing procedures. The MR277 automatically collects data related to the surrounding area and enables switching moisture probes and temperature sensors on the job which speeds up work overall and, thus, reduces downtime. What's more, the product supports MeterLink® diagnostics software to connect to other devices. And there is Flir's Tools® app that helps with troubleshooting and reporting.

Want to know more? Read our white paper.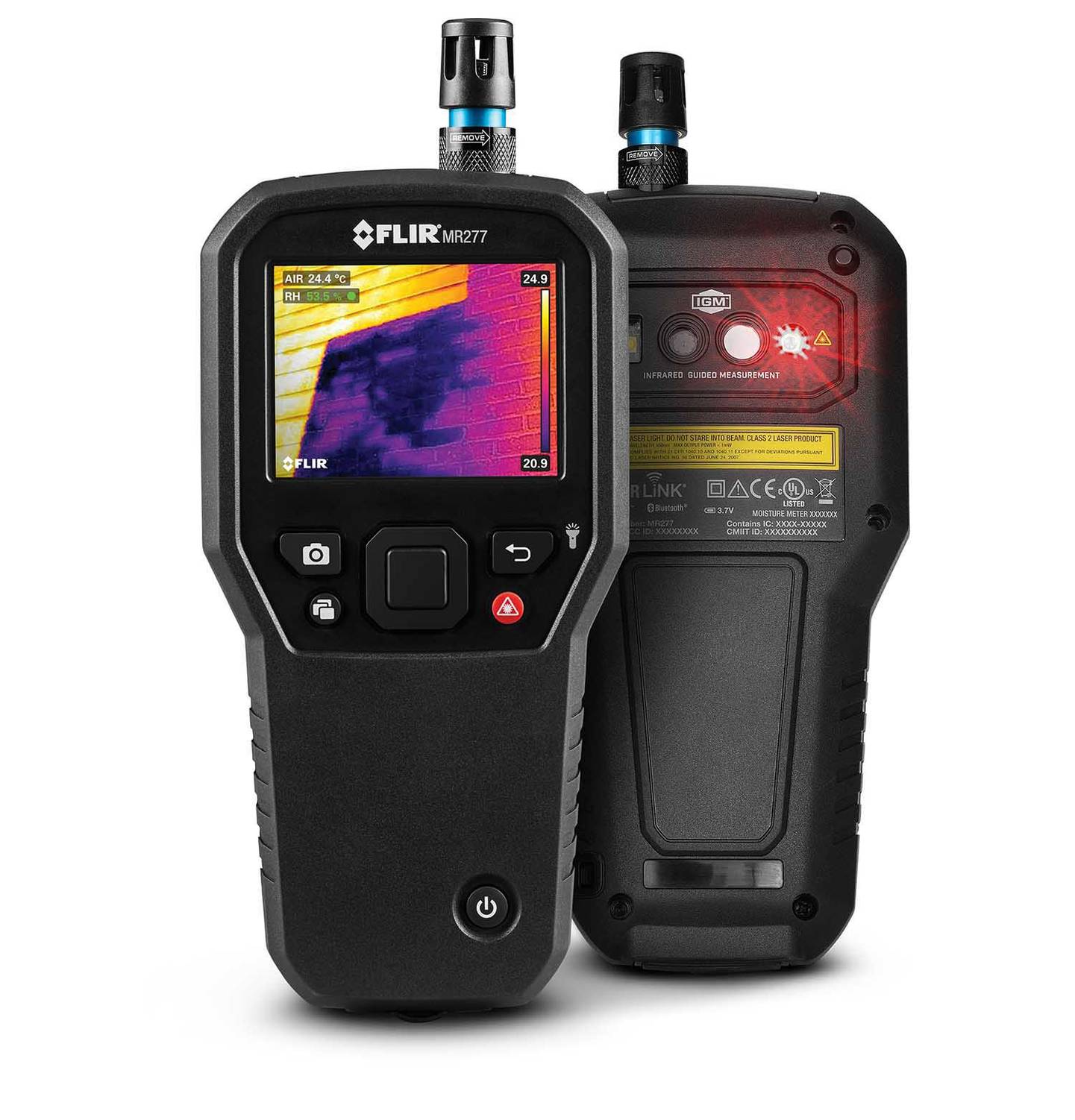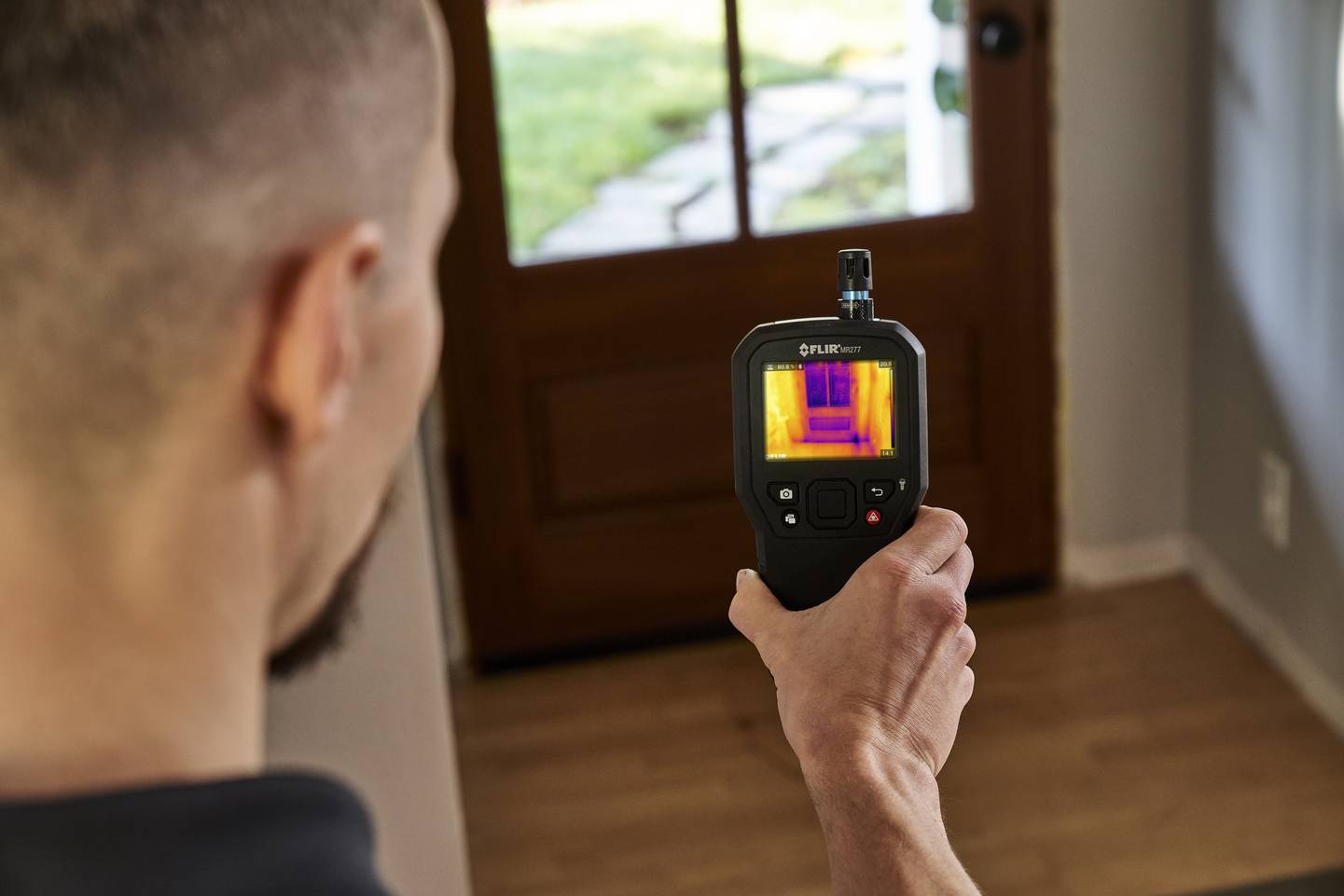 Looking for tools that get the job done when you are on a construction site and it is chucking it down?
We at STABILA have been manufacturing precisely those tools since 1889. We know that accuracy and precision are paramount when it comes to contractors choosing their tools. This is why we make sure we continually improve our products, to be able to supply the right tool for any job. We stock over 300 different items, including yardsticks, tape measures, rangefinders, lasers and spirit levels.

Tasks on construction sites, at assembly lines and in the MRO sector tend to be on the tough side. Time constraints and heavy workloads put people and machinery under a lot of pressure. Means durable equipment is vital for everyone working these types of jobs. This is precisely why VOLTCRAFT supply heavy duty testers that can handle these conditions. Innovative ideas and constant improvements are at the heart of their product lines, to make peoples' everyday jobs easier. Drop-tested equipment and tightly sealed thermometers are just two examples of the VOLTCRAFT product range.
Solutions centred around practicability and innovative designs that prioritise ease of use make the products highly efficient so that you can get on with the job.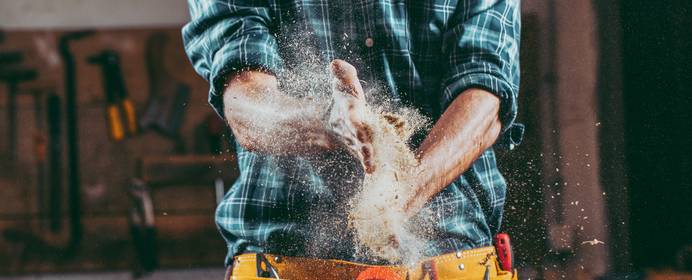 You might also be interested in
Everything related to Test Equipment
Find the product that meets your needs!

Learn more
Sign up for our newsletter
Don't miss any news, offers and highlights at Conrad.

Subscribe now