Accurate Readings? High-quality Testers for Laboratories and Workshops
Accurate readings aren't something that happens by accident. They are the result of the perfect interplay between quality test equipment, user skills and adequate data evaluation. Industrial-grade testers are the backbone of all scientific work carried out in research laboratories.
Benefit from a range of professional test equipment tailored to laboratory settings in the electrical engineering, electronics, biomedical, physics and chemistry sector, as well as to manufacturing, product design, and materials and food testing.




Our comprehensive range of products caters for the wide range of needs that arise when it comes to equipment used in laboratories and workshops. We provide solutions for almost any weighing and measuring task in laboratory scenarios across all industry sectors. Which includes both the most basic gear and high-accuracy premium instruments. Laboratory and analytical scales cover all the bases and, thus, help you carry out your job diligently in your line of work. Besides a comprehensive set of weighing functions, our scales feature all the common interfaces to enable communication between the product and equipment you already use. Means our high-resolution precision scales are suitable for a wide variety of tasks and environments.

Apart from scales, microscopes and refractometers are an integral part of 21st century laboratory equipment. For instance, it's high-quality lenses combined with excellent lighting and a high degree of flexibility that make our binocular microscopes stand out from the crowd. They handle a wide range of sample textures and sizes, hence, are the perfect choice for a large variety of uses. Moreover, we supply analogue and digital refractometers for measuring concentrations of aqueous solutions.

Kern Brand Shop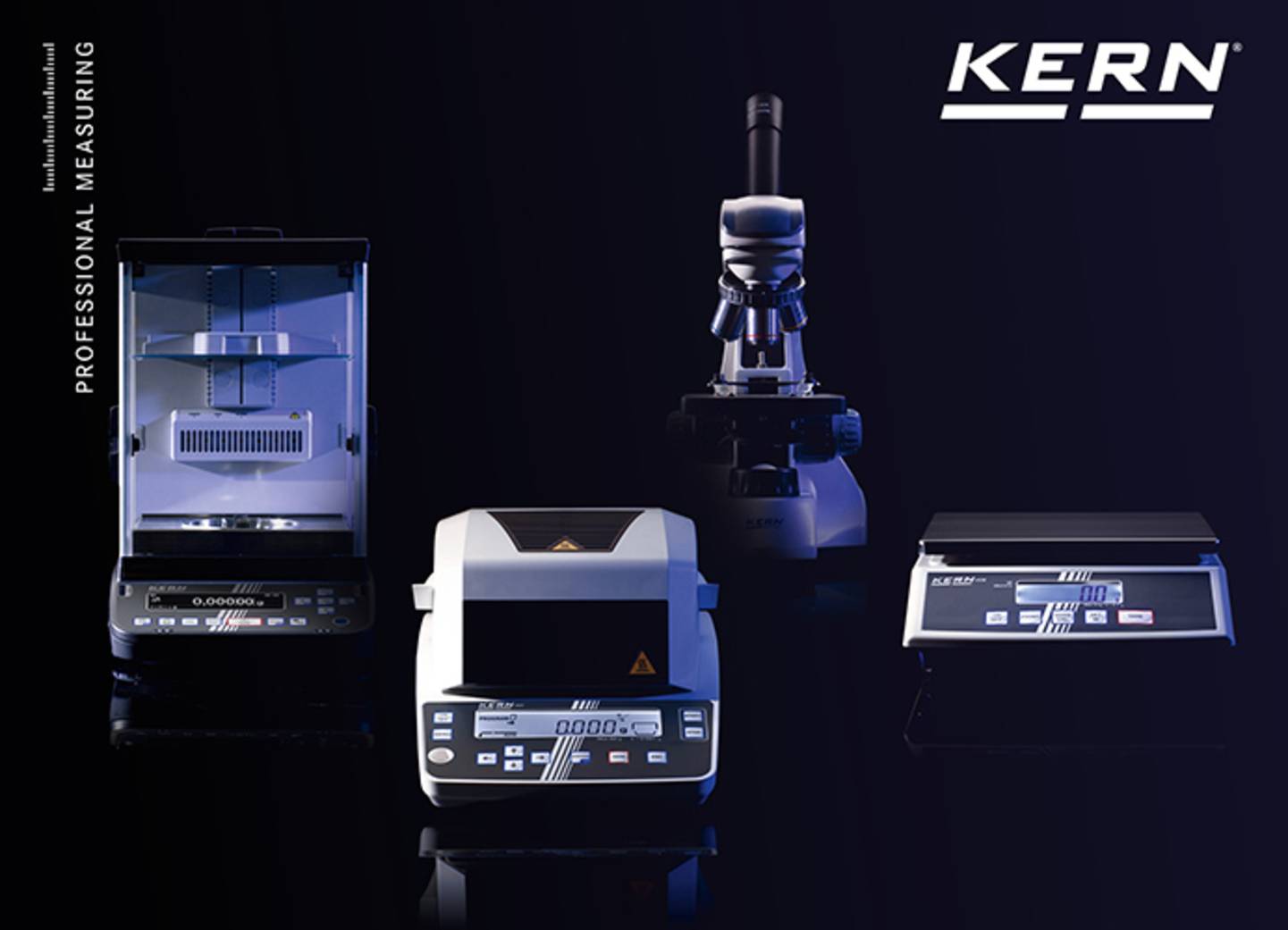 Rigol have added four new types of DC power supply units to their product selection, namely the DP2031, DP932A, DP932U and the DP932E.
The devices come with three separate channels that allow increasing the previous maximum current and voltage output by 10 percent. All four product types enable using two of the channels internally either in a parallel or a series circuit arrangement.

The DP2031 features outputs both at the front and on the rear panel, which facilitates ATE integration and 4-wire set-ups via the "Sense" inputs. The product also comes with a "Low Current" mode that enables µA resolution.

Some of the stand-out features are the arbitrary output that allows time settings down to 1ms, an analysis mode that displays output characteristics both as real time curves and as trends, and a built-in data logger function.

Ripple as low as <350 µVrms / 2 mVp-p makes these units suitable for supplying smooth DC with very little residual periodic variation. Besides a 4.3" touchscreen, the products sport a LAN and a USB port that allow controlling various output parameters.

Rigol Brand Shop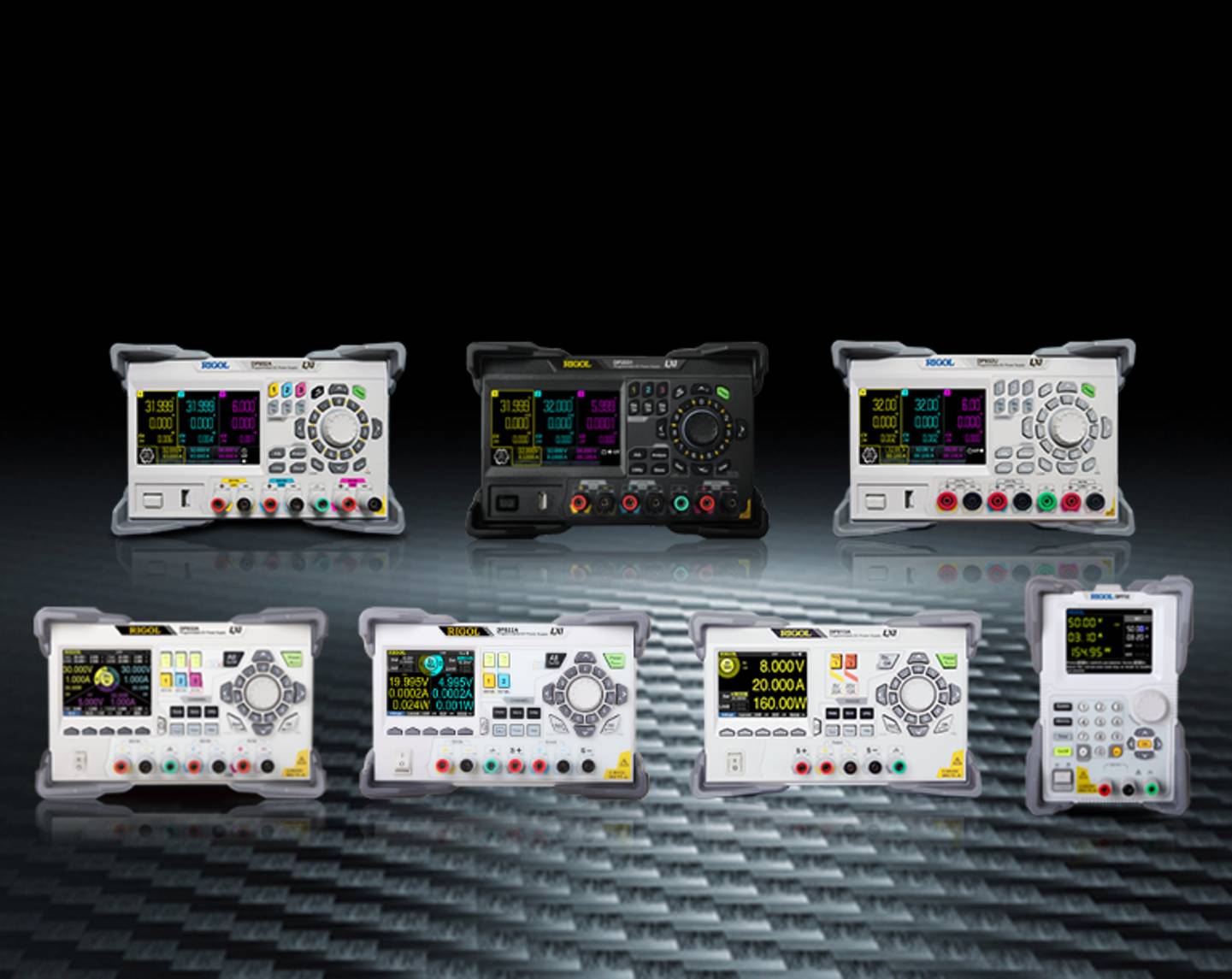 Multiple measurement methods in the field of IoT

The development in the field of the Internet of Things (IoT) requires on the one hand more and more functions and on the other hand high reliability and battery runtime. Already during the first development steps, this requires a flexible measurement technology that grants the user a fully comprehensive technology for any function. Rigol offers a complete solution for this with a variety of measurement instruments to ensure even the most difficult measurement requirements.

IoT developments are also battery-powered in most cases and can be connected to the Internet via wireless communication, for example. Due to the compact design, EMC is also an important issue that should be checked by constant pre-compliance analyses. Rigol offers solutions here for power management analyses, for ensuring the quality of data lines and for component tests.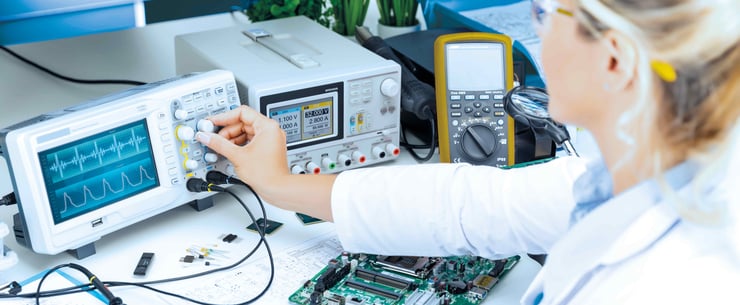 | | | | |
| --- | --- | --- | --- |
| | | | |
| Multimeter DM3058E series | Oscilloscope MSO5104 series | Spectrum Analyzer RSA3015N series | Power supplies DP832 series |
| | | | |

Whenever productivity is at stake, and you need to resolve issues quickly, Fluke's 87V provides the accuracy and the range of features you need to narrow down the problem. The 87V industrial-grade multimeter has been designed for processing complex signals. It helps boost productivity by removing any ambiguity during the fault detection process which also includes tasks that involve high noise levels, high voltage and working at heights.

- Accurate frequency readings taken from drivetrains with frequency converters due to built-in low-pass filtering
- Built-in thermometer means you don't need to bring one
- MIN/MAX peaks enable detecting inaccuracies using super-short 250-µs sampling intervals
- Two display modes using 6000 and 20000 bits, respectively, resolve the tiniest changes in the readings
- Complies with CAT III 1000V, CAT IV 600V surge protection ratings
- Designed and manufactured in the USA
- lifelong warranty
- The Fluke 87V – just one of the many Fluke tools that are widely trusted

Fluke designs equipment that are trusted across the world. And that doesn't just apply to the 87V. If you are servicing HVAC systems, need a small tester for tasks in a confined space, work as an electrical contractor or in the MRO sector, make sure to check out the whole range of digital multimeters by Fluke.

Fluke Brand Shop
Fluke Testers in an industrial environment.

Find the Fluke digital multimeter that suits your needs.
Because digital multimeters used in a wide variety of tasks in industry in trade, it's important that you choose the right product.


For more than 80 years, Helios Preisser has been a reliable partner in all aspects of high-precision manual measurement and thus offers a wide and deep range of high-quality manual measurement technology.

The digital caliper DIGI-MET 1320 417is a true all-round talent made of stainless steel, resistant to moisture and hand perspiration.
The caliper is according to accuracy DIN 862. The following applications QuickStart electronics,
QuickLock function, zero setting and PRESET function (measured value presetting) facilitate the
workflow.



Modern test equipment intended for research, development and laboratory use is subject to increasingly stringent requirements. VOLTCRAFT are upgrading and improving their testers all the time to meet these demands. Highly accurate bench multimeters, signal generators with a large variety of functions, a range of scopes that is entirely centred around digital technology and now also includes Mixed Signal Oscilloscopes (MSOs). But new features and functions aren't the only things that have changed. The design has been brought up to scratch, too, with oscilloscopes, function generators, bench multimeters and bench power supply units now coming in a timeless black rather than the uninspiring light grey that people told us they were getting a bit tired of at the workplace.

Solutions centred around practicability and innovative designs that prioritise ease of use make the products highly efficient so that you can get on with the job.
You might also be interested in
Everything related to Test Equipment
Find the product that meets your needs!

Learn more
Sign up for our newsletter
Don't miss any news, offers and highlights at Conrad.

Subscribe now