40 years of VOLTCRAFT, reliable and precise
The milestones of a success story
Whether in electrical and environmental engineering, power supplies, charging technology and power banks or endoscopes: Technical users in development, laboratories, trade, maintenance and education, students and apprentices, technology enthusiasts and professional do-it-yourselfers appreciate the solid and innovative technology of VOLTCRAFT products, which have proven themselves in practice for four decades.
The various products of the past 40 years have not only marked milestones in VOLTCRAFT's success story, they have also set standards in the industry: In 1982, the first product came onto the market. A digital multimeter. The VOLTCRAFT 6010, which met the standards of the time, but was offered 60 percent cheaper than competing products.
Today, more than 1,700 VOLTCRAFT products are available throughout Europe.
Historical roots

Forty years ago, multimeters with digital displays were very popular. The measured values were direct and easy to read, in contrast to the analogue devices with pointers on confusing scales. The VOLTCRAFT 6010 from 1982 was state of the art at the time and unbeatably cheap.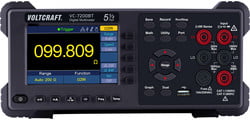 Meanwhile, suitable multimeter ranges are available for every application. More than 100 different hand-held multimeters, special multimeters and, of course, laboratory multimeters are available. The VC-7200 has a very easy-to-read graphic display for values and diagrams. Now dynamic curves, accumulations, progressions and much more can also be displayed.

From robust standard power supplies to laboratory specialists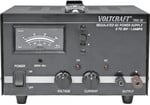 As early as 1982, the year the company was founded, the first controllable laboratory power supply was available under the designation TNG 30. A few years later, the first programmable power supply Digi 35 with a 10-key keyboard for direct input of current and voltage was particularly popular. In 1998, the 2nd generation Digi 35 with computer interface followed.

Today VOLTCRAFT produces more than 60 different laboratory power supplies in all power classes and for every application. If required, the power supplies are also available in an ISO or DAkkS calibrated version.

From a single IR thermometer to a complete environmental measurement range

With this IR gun, VOLTCRAFT has for the first time in 2003 made temperature measurable without contact. With conventional sensors, rotating shafts of motors and gears can hardly be measured without safety restrictions.
Determining surface temperatures at a distance thus became quite easy in 2003.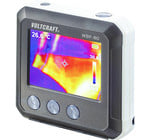 Today, there are more than 260 products in the temperature measurement category. From measuring probes to pocket-sized thermal imagers that fit into every work coat.
Meanwhile, a whole arsenal of measuring instruments is available for gases, water quality, wind, lighting, radioactivity and many other environmental categories. This development underlines the competence of VOLTCRAFT also outside the classical electrical measuring technology.

Measures electricity range easily and above all accurately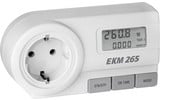 Rising electricity costs, a plague for many years. In 1995 VOLTCRAFT developed an easy-to-use solution for the first time. The EKM 265 energy cost monitor was able to map active and visible power reliably and accurately. The Energy Logger 3500 followed in 2008 for direct storage of the recorded measurement series on SD card.

With the SEM 6500 and the SEM 8500, VOLTCRAFT has just launched devices for professionals that determine all types of power and consumption values with impressive precision and transfer the data directly to the cloud in unlimited quantities.

Recharge batteries efficiently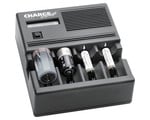 When the first VOLTCRAFT charger with processor-controlled charging procedures appeared on the market in 1995, the death of batteries finally came to an end. Optimised charging curves, depending on the cell type, prevented overcharging. The charging voltage and charging current were controlled.
In the course of time, new battery technologies with new requirements appeared on the market. Integrated battery care programmes followed, and even the reactivation of batteries thought to be dead.
Modern high-performance rechargeable batteries are mainly found in mobile devices and no longer have anything in common with the nickel-cadmium batteries of the past. Super fast charging without memory effect - if possible without self-discharge of the batteries - is the norm today.
PD is the magic word: power delivery. The charger and the mobile device exchange information on how much power should be supplied and when. With a plug-in power supply or for recharging on the move: VOLTCRAFT powerful chargers and powerbanks with PD technology.