40 years VOLTCRAFT - Saving energy
Measuring energy consumption
For safe and accurate consumption analysis, accurate measuring devices are needed that determine energy consumption in a simple and uncomplicated way. Plug in and read out.
Since 1995, VOLTCRAFT has been developing measuring instruments for energy costs, with which not only active power, but also reactive power, apparent power and phase shift can be mapped reliably and with laboratory accuracy. Not only electricians can thus get a complete picture of actual energy consumption.
The new class - now with cloud storage
The SEM6000 energy cost meter, which has proved itself thousands of times over, now has a big brother:
SEM6500 WiFi energy cost meter:
Impressive precision
Cloud supported by Tuya
Huge data memory for recording long-term measurements
Can be combined with smart devices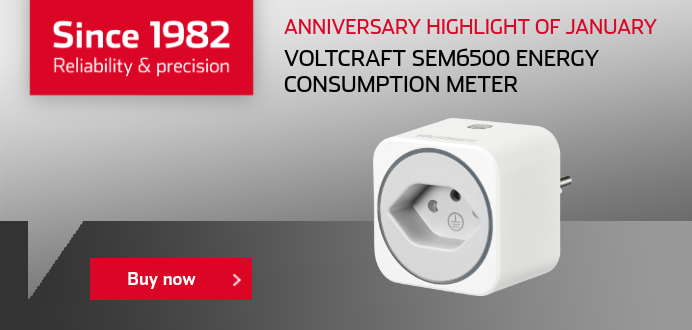 Voltcraft thermal imaging cameras:
Comparison table thermal imaging cameras
Type

Housing
Pistol grip
Pistol grip
Pistol grip
Pocket construction
Smartphone camera
Thermal imaging multimeter
Optics
50°x38°
50°x38°
40°x40°
-
-
-
Temperature measuring range
-10 do 400 °C
-10 do 400 °
-20 do 600 °C
-10 do 400 °C
-10 do 330 °C
-20 do 260 °C
Bolometer matrix
160x120 pixel
80x60 pixel
32x32 pixel
80x60 pixel
206x156 pixel
80x80 pixel
Thermal detection
150 mK
150 mK
254 mK
150 mK
100 mK
✓
Emissivity adjustable
Yes
Yes
Yes
Yes
No
Yes
Basic accuracy in %
3.5%
5%
2%
3,5%
5%
3%
Basic accuracy in °C
3,5 °C
5 °C
2 °C
3,5 °C
5 °C
3 °C
Frame rate
9 Hz
9 Hz
9 Hz
9 Hz
9 Hz
50 Hz
Protection class
IP54
IP54
IP54
Housing: IP40 / Connection: IP20
IP65
Details
extremely robust 2 m drop, with PC analysis software
Extremely robust, with PC analysis software, 2 m drop-proof
Integrated digital camera
slim and lightweight housing portable design
USB-C™ port for Android devices
Integrated digital multimeter
Benefits
Easy to operate; works reliably even under difficult conditions
Large measuring range; Very good price/performance ratio; Suitable for many applications
Versatile use; wide temperature measuring range; practical tracking function for cold and warm spots
Small, compact, pocket-sized thermal imaging camera; high and low temperature alarms
Streams thermal images to Android phones and tablets via USB-C
Suitable for on-site fault diagnosis; functional multimeter is also integrated
Storage
micro SDHC card
microSDHC card
Internal memory
microSD card
Weight
365 g
365 g
212 g
113 g
45 g
559 g
Numer produktu
2127008
1897504
2362843
2161942
2104425
1661486

Ventilate well and save energy
Ventilation in the winter months is always accompanied by a certain amount of heat loss. In order to keep the losses as low as possible, modern measuring technology can be used as a tool for optimising the shock ventilation.
The more people there are in a room, the faster the air is "used up". The result: the CO2 content rises and the concentration of everyone present falls. But not only that: as the proportion of exhaled air increases, so does the burden of viruses and bacteria, which increases the risk of infection from airborne pathogens.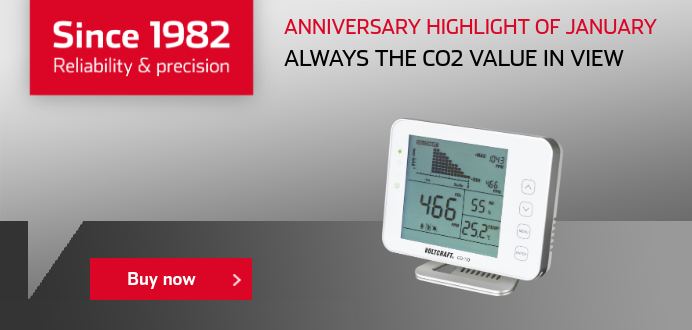 Switch to LED lamps and save energy
Measuring brightness
Room lighting and workplace lighting offer opportunities for further energy-saving measures. Switching from fluorescent tubes or halogen to modern LED technology can effectively reduce unnecessary electricity costs.
But how much light is needed? This can only be checked with a suitable LUX meter. If the values are not sufficient, further measures must be taken, such as the number and strength of the lighting sources.

Recharge again and again instead of throwing it away
Replacing batteries with rechargeable ones is sustainable and saves resources and harmful waste. VOLTCRAFT has decades of experience in developing processor-controlled chargers for all battery types.
Today, modern rechargeable batteries can be used in the same way as batteries. Charge them once and use them as required. The Endurence technology makes it possible and combines the advantages of batteries (low self-discharge) with the advantages of rechargeable batteries (always rechargeable).
VOLTCRAFT round cell chargers are suitable for all battery technologies and battery sizes. There is even a suitable charger for rechargeable button cells.