Strong start with automation for your company
Give your business a unique competitive advantage and get started with Conrad. By automating your processes, you can complete certain tasks faster and more accurately and shorten production times while your workforce completes more complex tasks.

You have the choice and Siemens has the answer
At the beginning there is the project... and which controller to use? The answer for a fast, uncomplicated and space-saving solution for open-loop and simple closed-loop control tasks clearly falls on LOGO! - however, where it comes to open-loop and closed-loop control of larger plants with many work steps, the use of SIMATIC S7-1200 as a compact but flexible control solution is recommended.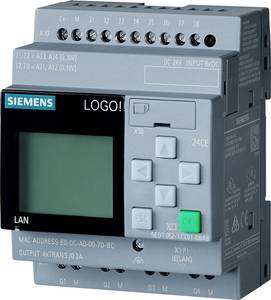 Controlling extraction systems with "Stop & Go" energy-efficiently and safely
Many industrial operations generate harmful dusts, chips or toxic vapors. In order to protect people, the GefStoffV requires extraction systems that discharge emissions to the outside via exhaust air systems or suck them in and distribute them back into the room in a cleaned state (recirculation system). Since switching on the machine when there is an acute need costs too much lead time and poses dangers in terms of particle collection, exhaust systems usually run continuously. Disadvantage: continuous operation is very energy-intensive. It is therefore much more efficient not to switch off extraction systems, but to put them into standby mode and return them to active mode when needed. This "stop-and-go" operation is possible with Altivar Machine ATV320 frequency converters from Schneider Electric. The integrated logic controller can be used to program functions for the extraction and actively control the extraction frequency. Even in harsh environments.
AX compact control cabinet with system
The AX compact enclosure sets standards. With integrated enclosure cams, it has the same 25 mm system grid as Rittal large enclosures. The AX is designed in such a way that no mechanical processing is required for interior installation. This results in the greatest possible flexibility when retrofitting. To this end, the AX is available with a wide range of accessories that can be attached without drilling. This is made possible by the cams on the housing. These ensure stable fastening of the interior installation rail. Even if requirements change, it is no problem to retrofit the missing components or replace parts. This results in enormous time savings during interior installation. No drilling means no holes and no danger for approvals. Even when using Rittal accessory components that close an existing opening in the enclosure, such as handles or wall brackets, the UL approvals remain intact.
Here you will find everything for wiring