Making power flows more efficient and cost-effective.
Solutions for an ever-increasing number of electrical loads, the use of renewable energy, e-Mobility and your climate goals.
If you are looking into mobility fit for the future, we at Webasto are there to help you all the way. We provide all the charging solutions you need in the form of high-performance charging stations, an extensive range of services and digital interconnection. Webasto Wallboxes come with a market-conforming 11 kW and 22kW rating, a backend that allows online device management via gateway or app, user authentication, billing, and dynamic load management. Expand your set-up with innovative electric vehicle charging products that are compatible with external interfaces and a range of energy management systems.
Your benefits at a glance
Easy to use: manage all Webasto smart chargers digitally and free of charge via the innovative Webasto ChargeConnect
Flexible: easy integration into existing building EMS
Smart: dynamic load management prevents power outages and saves money

More space and transparency in switchboards: Siemens SENTRON circuit breakers with built-in testing and communication features.
The ongoing electrification results in an increased number of electrical loads and more complex power distribution. To prevent plant downtime and protect staff at the same time, making power distribution more transparent and expanding facilities in line with regulations are key. This reduces plant downtime and allows you to come up with a maintenance plan that keeps your machinery operational. SENTRON circuit breakers have a testing and communication function and are sized 1U which increases switchboard transparency and frees up space in switchboard cabinets. The compact 5SL6 COM RCCD series can tell the difference between surges and shorts, with 5SV6 COM AFDDs also being able to distinguish between serial and parallel arc faults, besides monitoring amperage, consumption, power, mains frequency and temperature. The 5ST3 COM ACB/FC is a simple way of retrofitting standard equipment. The 7KN PowerCenter 1000 transceiver collects the readings and forwards them to control systems for data visualisation and analysis.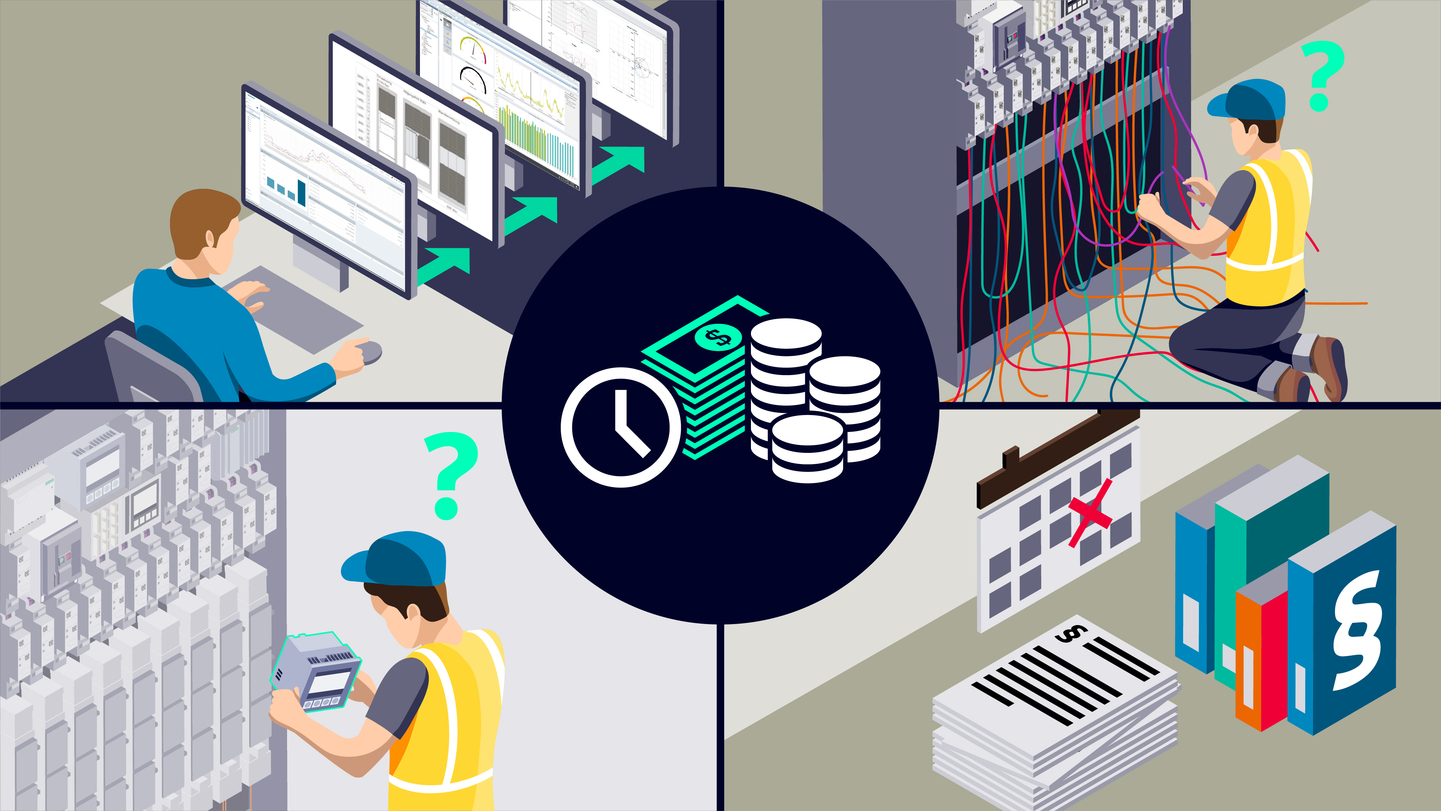 © Siemens AG 2022. All rights reserved.

19" and 10" Industrial-grade Switchboard Power Strips
brennenstuhl® offers the optimal extension for the server cabinet with 10 and 19 inch power strips. The reliable and trouble-free operation of control cabinets is essential for high productivity in industry. That is why the quality manufacturer offers power strips in 19 and 10 inch format in industrial quality.
The power strips are suitable for installation in network or server cabinets. brennenstuhl® has various power strips in the control cabinet technology range. There are models with 10 amp fuse, EMI/RFI interference suppression filter, surge protection or with automatic circuit breaker and IEC plug, especially for use with UPS.
App-controlled Wi-Fi Power Strips
Smart Wi-Fi power strips that enable intelligent automated power management are available as a part of brennenstuhl®'s Smart Home system called brennenstuhl®Connect. The Wi-Fi sockets support a range of smart functions enabled via the free (No Suggestions) app.
These Wi-Fi power strips allow the automated control of connected socket strips or other devices. Unlike a smart in-line socket that is limited to managing a single device, Wi-Fi power strip are able to operate a whole range of appliances.
Adding genuine value – Sourcing made simple and efficient
You might also be interested in.

100 years Conrad
Celebrate with us and benefit from great anniversary offers that will make your daily work easier

Conrad Energy Saving Guide
Tips and things to know. Ways to reduce your energy costs.

Subscribe to the newsletter now
Stay up-to-date and benefit from many other advantages.